In the eco-friendly society in which we all live in, many businesses are looking at ways to help in this regard. Installing furniture made from sustainable materials is one easy way to start thinking about going green. Home offices can also be made eco-friendly, with some really stylish and contemporary designs on offer. Here are just 5 pieces of office furniture designed to help the environment.
Legaré Sustainable Bamboo Desk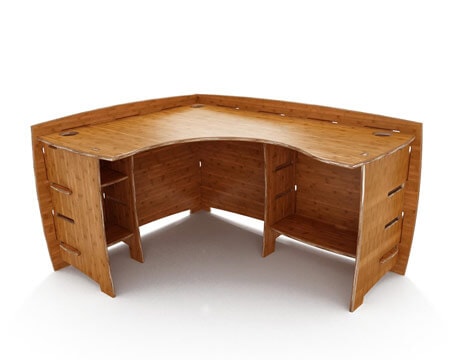 This beautifully designed bamboo desk from Legaré Sustainable is made from rapidly renewable and sustainable bamboo. Its rich golden colour comes from the nontoxic kiln finishing process. The tab and slot design concept make for simple and easy assembly with no need for any tools. Finish off your office in style and check out the occasional tables, bookcases, media centres and other pieces in their range.
Knoll Life Chair
Knoll reuses wood scraps or burns them for fuel. They also use FSC Certified wood and natural fibres, their KnollTextiles fabrics made from 100% recycled content. This Life Chair has won numerous green and design awards, its features consisting of 55% recycled content and 60% (aluminium base version). It's designed to be readily recyclable, and is made in the their LEED Gold and ISO 14001 certified Lubin Building, where energy use is generated by wind power.
Knu Desk
Made from gorgeous FSC Certified wood, this affordable desk from Knu is both functional yet minimalist. The legs are powder-coated steel and the finish is non-toxic. Production is offset with carbon credits.
Stylus Mesh Visitor Chair
This very economical contemporary mesh-back ergonomic chair consists of fixed loop arms, a chrome frame and mesh back. It comes black, blue and green with a black Faux-Leather (PU) seat, making it stylish, perfect as a meeting chair or personal home office chair.
Ship Shape Desk Caddy

The Ship Shape Furniture range comes either flat packed or fully assembled in 3 different colour combinations. This desk caddy has been designed with a strong cammed construction system for easy assembly. It's designed to provide extra storage space for your current work projects, folders and books. The unit also includes a CD rack, as well as vertical and horizontal storage – the perfect extra for any office or home environment. Being eco-friendly doesn't mean dull; as you can see, most of the eco products are now designed with style in mind. So go online and search for some stylish furniture, whilst helping to reduce your carbon footprint.