Chevrolet is launching its 2014 Chevrolet Spark EV (electric vehicle) on the streets of California and Oregon this summer.  What's so significant about the Spark EV minicar?
First off, Chevy's Spark EV is truly an all-electric vehicle unlike Chevy's Volt, which has both an electric motor and an internal combustion engine. Secondly, Chevy claims its new Spark EV will go an EPA-estimated 82 miles on a full charge (or 119 combined mpg). That means The Spark EV competes very well with the all-electric Nissan Leaf.
How much can the Spark EV save you in fuel costs? Chevrolet claims a potential savings of up to $9,000 in fuel costs over a five-year period.
As for price, Chevrolet is only revealing the 2014 Spark EV will cost just under $25,000. But minus the $7,500 federal incentive and potential state incentives and the Spark EV becomes that much more affordable.
And unlike most hybrids such as Toyota's Prius, the 2014 Spark EV is approved for HOV lane use.
Electric Motor and Charging
The 2014 Chevy Spark is equipped with a 21 kWh lithium-ion battery pack that's protected by an eight-year or 100,000-mile warranty.
And here's another cool thing about the Spark EV: It will be the first EV on the market to offer the recently-approved SAE DC Fast Charging combo charger as an available option (pricing not yet available). The fast charger will be available for purchase shortly after this summer's launch and will enable Spark EV owners to recharge up to 80 percent of battery capacity in just around 20 minutes. Plus, the fast charger can handle multiple charges each day, if needed.
As with Chevy's Volt, Spark EV owners can download a smart phone "app" for managing and monitoring charging activities. The app is provided by OnStar, which comes as standard equipment on the Spark EV for three years.
Another "first" for the 2014 Chevrolet Spark is acceleration. Chevy claims its newest EV can go from 0-60 mph in under eight seconds. How did Chevrolet engineers do it? They mated a 100kW (130 hp) "permanent magnet electric motor" with a "coaxial drive unit."
This GM-designed permanent magnet motor is cooled via oil and gets its ultra fast propulsion by using a "bar wound copper stator and unique rotor configuration." What does that mean? It means the 2014 Spark EV accelerates FAST!
Chevy Spark Road Test
Are you considering a Spark EV purchase? Several months ago, this automotive journalist road tested a denim blue 2013 Chevy Spark on a harrowing ride through a winter storm in the dark early morning hours. Sure, I was driving the 1.25-liter four-cylinder internal combustion model, so I cannot report on the EV's performance.  However, I was impressed with this minicar's sporty exterior as well as the comfortable, utilitarian and high-tech interior.
I especially loved the Spark's pointy hood, the bulbous two-tier shiny silver grille, the slanted cat-eye head lamps, the curvy front fenders, the sleek windows, the flush hatch, the tinted back windows and the racy spoiler.
Inside, I was a bit disappointed with the quality of the interior materials. Yes, the Spark could use a bit of an upgrade inside, especially when compared to Nissan Leaf and other "toy" cars such as Fiat 500 and Mini Cooper. Still, I noted during my weeklong road test that the interior was "comfortable, spacious and has good style."
What about the driver's cockpit? I discovered the Chevy Spark was surprisingly well equipped and ergonomic with its feel-good, leather-wrapped steering wheel, bold motorcycle-inspired digital instrument gauges and heated perforated leatherette seats.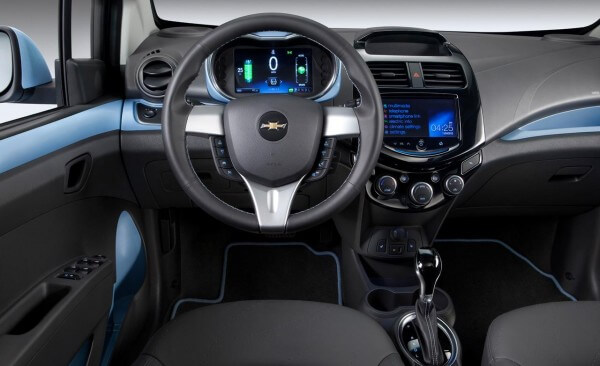 The central console, which includes a seven-inch touchscreen surrounded by handsome shiny piano black plastic, is perfectly placed at eye level. The screen is outfitted with Chevrolet's smartphone-integrated MyLink auto infotainment device.
Second row seating was roomy enough for my oversized nine-year-old daughter although a tall adult would not fit comfortably for long periods.
How about cargo space? At first glance, the Spark's hatchback space looks incredibly small. Surprisingly, this seemingly tiny space holds more than expected. In fact, with the back seats all the way up, I was able to fit six grocery bags. One more drawback about the Spark's cargo space is the 60/40 second row seats do not fold down completely flat.
Still considering the 2014 Spark EV as your next new car purchase? You should. This good-looking green car is one of the hottest EVs to hit the roads this year.