These five living furniture projects take garden furniture to a whole new level. Not just pieces that occupy a garden, these creations include living plants.
Pooktre Chair by Peter Cook
Imagine relaxing in a chair that is also a tree rooted in the ground. That's what Peter Cook did with his Pooktree Chair. Cook gently shaped the branches of his tree over seven or eight years until it formed a living chair.
Cook incorporates trees into the human environment as functional pieces of furniture and art. Like the living tree that it is the Pooktree Chair has a slight swaying and bending motion.
What's pooktree? It's the process Cook uses to shape trees. The gradual shaping process is anything but random. Cook has a pre-determined design plan that he patiently follows.
Source: Pooktre
Vege-Table by Judy Hopsack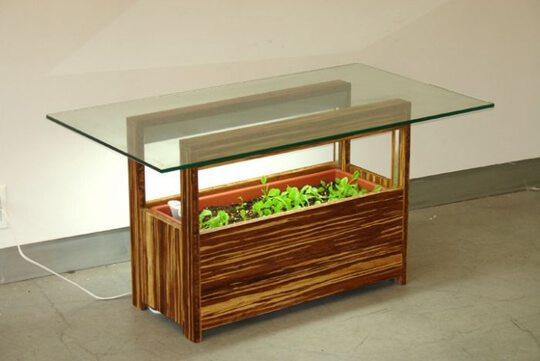 Want to grow an edible garden indoors, but don't have the space to devote to ugly fluorescent tubes? Judy Hoysak's Vege-Table may be just the thing for you.
Hoysak's take on living furniture combines a lettuce garden with a table. A beautiful handcrafted wood planter box has a fitted liner you can fill with planting medium. It's even self- watering to take the guesswork out of raising your lettuce. And of course, lights.
Posts rise above the planter to support a rectangular piece of clear glass. Is it a table? Is it a planter? It's both, and it's all very clever and attractive.
Source: Apartment Therapy
Living Garden Furniture by Bridgman
As designers and manufacturers of fine furniture for over half a century, Bridgman is no stranger to innovation. With its living chair Bridgman transforms an old rattan chair that's seen better days into a triumph of pansies. Ever practical, the company gives the chair a sturdy grass seat should you want to take a rest. And with clear step-by-step instructions anyone can make their own living chair.
Source: Bridgman
DIY Grass Armchair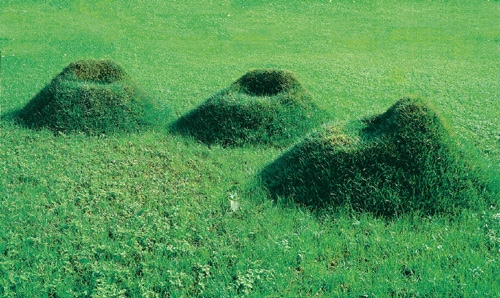 If you love to sit on the lawn the Terra Grass Chair will elevate your luxury to the next level. Whether you use a pre-fabricated cardboard frame or an old chair frame, all you do is cover it with soil, sow grass seed, and water it regularly.
It may look like a strange mound on the lawn, but when you sit yourself in it you'll appreciate the cleverly simple adaptation.
Source: Terra Grass Chair
Mobilier a Jardiniere by 5.5 Designers
Mobilier a Jardiniere is an outdoor furniture line that builds planters into the backs of benches and chairs for the garden. The collection features contemporary style furnishings with clean, simple lines.
A typical rectangular bench has a low elongated oval back that serves as the planter, or jardinière. The tightly clipped foliage—perhaps privet or boxwood—gives the appearance of a hedge in a well-maintained garden.
Source: Moco Loco