The current state of affairs in politics and everyday life now centers around climate initiatives, most of which prioritize sustainability. Today, any institution that promotes sustainable energy becomes popular — Tesla is a prime example.
Since the drivers of the sustainability movement are young people (like Greta Thunberg), academic institutions now have to introduce more renewable energy degrees.
At the moment, the number of available 'green' degrees has grown to 28.5% since 2019. With these figures in mind, let's discuss the relevance of pursuing a career in the renewable energy field. You will also discover lucrative career paths and the best Eco-friendly colleges.
Why should you pursue a sustainable energy degree?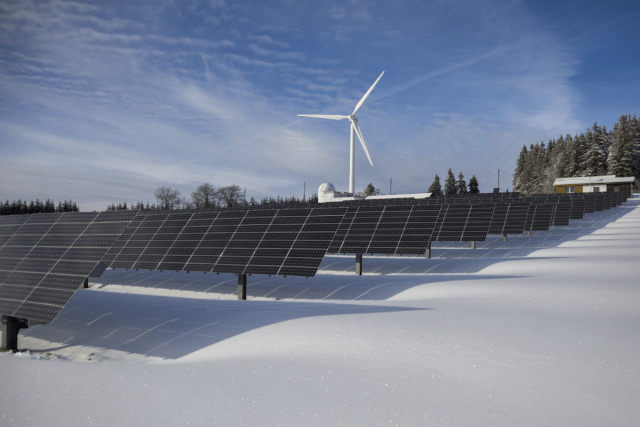 Most sustainability detractors argue that it is merely a fad that will get lost in the noise once people's interests shift to other things. Well, this assertion is wrong. Multinational companies now actively adopt green initiatives to reduce energy consumption.
Let's discuss the key reasons why you need a sustainable energy degree:
Sustainability is a way of life. People now dedicate their lives to causes like the [American] Green Movement and Green New Deal. As the days go by, sustainability will continue to grow from a fringe movement into a mainstream ideology.
Every industry needs sustainable energy to survive and serve as a role model. Companies like Tesla are increasingly popular because of their green ideals. 
E-commerce brands also market their products with a backdrop focused on recycling.  
Awareness of sustainability issues makes you more employable. Since most companies are going green, they want job prospects with solid renewable energy foundations.
New career opportunities appear every day. As sustainability continues to blossom, more career paths materialize alongside it.
Plenty of academic and scientific materials exist on this subject. Scientists now have to shift their attention to climate concerns. Hence, you can find fresh educational resources dedicated to renewable energy before deciding to obtain a degree.
Sustainable energy degrees
As mentioned earlier, you can build a career with a sustainable energy degree. But is energy a good career path for you? The answer is yes. Renewable energy degrees can be used across multiple spheres. Let's check out some of them below:
Environmental engineering
Environmental law
Environmental architecture
Urban planning and development
Marine sciences
Ecology and waste management
Environmental science and technology
Geosciences
Data analysis in science
Natural resources and conservation
A degree in environmental engineering (or environmental science and technology) opens you to opportunities in tech and manufacturing. Similarly, degree holders in environmental law could become climate lobbyists or legislators. You can also work on Smart City initiatives and off-grid living as a certified environmental architect.
Furthermore, a degree in marine sciences could land you a job as a researcher or marine biologist.
Today, water pollution is a pressing issue, with horrifying images of endangered sea life and waste-contaminated waterways. Therefore, you could become a contributor to environmental safety.
Also, a degree in waste management can help you in this area. Ultimately, a degree in data analysis is vital to the green workforce, too, as companies are looking for ways to monitor and minimize their carbon footprints and toxic emissions.
Career Opportunities in Sustainable Energy
Renewable energy degrees guarantee highly paying energy engineering opportunities across the board. Even without any experience, you can land entry-level renewable energy jobs to kick-start your career. Here are some of the most demanding career choices to consider: 
Engineering (electrical, nuclear, mechanical, solar, biomass, wind energy, and other renewable energy engineers)
Academics (researcher, lab technician, educator, writer)
Public policy (legislator, lobbyist, representative)
Environmental consultancy (climate consultant, environmental advisor)
IT and communication (STEM)
Entertainment (activist, documentarian)
Business (brand strategist, project manager, product designer)
Wildlife and biology (marine biologist, zookeeper, park ranger)
Beyond these established career opportunities, you can also forge an independent career path based on your interests. Forward thinkers like Boyan Slat have crafted their own green initiatives and garnered support from all over the world.
Institutions that prioritize renewable energy
Sustainability is a front-page issue in every academic institution in the United States and the rest of the world. Colleges in the US dedicate a lot of financial and academic resources to renewable energy initiatives.
For example, Harvard University has over 20 buildings with LEED (Leadership in Energy and Environmental Design) Gold ratings.
Although most of the top Eco-proponents are Ivy League schools, other schools are still making waves in renewable energy. Here are some noteworthy green institutions in the United States:
Stanford University
Harvard University
Cornell University
Oberlin College
Ohio University
Yale University
Columbia University
Oregon Insitute of Technology
University of California, Berkeley
Massachusetts Institute of Technology
In Europe, some of the colleges leading the charge in sustainable energy degrees include:
University of Alcalá, Spain
Universitat fur Bodenkultur Wien, Austria
University College Cork, Ireland
University of Nottingham, UK
University of Greenwich, UK
Wageningen University & Research, Netherlands
Other notable green universities from around the globe include:
University of Melbourne, Australia
Australian National University, Australia
University of KwaZulu-Natal, South Africa
Cadi Ayyad University, Morocco
Chulalongkorn University, Thailand
Universitas Indonesia
Conclusion
A degree in sustainable energy establishes you as a top candidate for employment, regardless of the industry. You can also convert your expertise to become a climate advocate or implement it into a company's brand initiative.
However, you must choose sustainable energy degrees that suit your personality and life goals. You could become an engineer, lawyer, data analyst, or politician. Therefore, feel free to go through the available institutions and find out the renewable energy courses they offer.