Dreaming of living life off the grid? We at Modernize are strong supporters of a minimalist and eco-friendly way of living—which is why we are such fans of solar-powered appliances. Not only are they friendly to the environment, these innovative solutions are also a friend to your budget.
1. Store Your Hard-Earned Dollars
If your favorite room in the house is the kitchen, we understand. Food, family time, and fond memories are all cooked up in the kitchen, but so is a high energy bill and large carbon footprint. Replacing staple appliances like refrigerators can reduce the amount of electricity used to keep your food cold and your stomach happy.
One of our favorite products is the SunFrost R10 AC Refrigerator, which is one of the most energy-efficient upright refrigerators on the market. Order this refrigerator in natural wood or one of more than one hundred colors. Say goodbye to the notion that energy-efficient can't be chic.
So how much money can you expect to save? Non-solar refrigerators use about 14% of an average home's electricity, second only to the air conditioner.
These standard appliances can burn about 1400 kWh a year, whereas a solar-powered refrigerator uses closer to 400 kWh a year. That's a cut of about 28.5%. Think of how much money you can save, and you'll help the environment, too.
2. Cook Up a Better Solution
If you have fond memories of baking pies, roasting meats, and chewing on freshly baked cookies in the company of loved ones, many of those moments would have been impossible without your kitchen oven. But imagine if such a key player in making food could also make the world a better place. It can!
The All-American Sun Oven Solar Cooker from Sun Oven International redefines baking. The E-Z Sun-Track is user-friendly and enables you to align the appliance with the sun for efficient usage—and don't worry, although their efficiency is decreased on foggy and overcast days, solar appliances will still work under these conditions.
[youtube https://www.youtube.com/watch?v=ayJ01wcuH5I?rel=0&showinfo=0]
Sun ovens are easy to use, and this particular model is 14" x 14" x 12", which gives you plenty of room to slide in a solar pan. From baking cakes to roasts, vegetables, and casseroles, you can rely on the sun oven to do all of your cooking for a fraction of the cost.
Solar-powered ovens have provided innovative solutions for poverty-stricken areas, where the cost of providing enough electricity to power an oven is crippling and leaves little room for purchasing food.
But the power of the sun is free, and therefore this appliance allows users to budget only for ingredients. The investment to purchase the oven pays for itself in just a few months.
3. Light Up a Better Future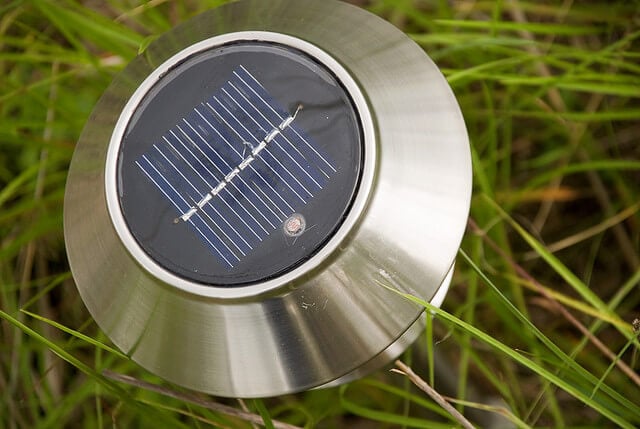 Replacing energy-sucking light bulbs with solar-powered lamps can overhaul your budget as well. There is a wide variety of outdoor, solar-powered lighting available, like LED outdoor lights from Hampton Bay and Westinghouse.
But it's not just your garden that deserves the spotlight. Indoor solutions are also innovative and can reduce your energy bill significantly.
Basic lighting kits like the LK01 Indoor Light System from Solar Illuminations provide a 20w solar panel, battery, controller and the ability to add up to 10 watts of LED lighting. You can purchase light fixtures that match your aesthetic and hook them up to this system.
Light up your house by zones, and reduce the amount of electricity wasted from leaving the lights on when you're not using them. You can install the battery box in a closet or utility room to hide it, and display those fabulous light fixtures instead, like the HL14 Solar LED Table Lamp.
Solar-powered appliances are more abundant and efficient than ever, so it's the perfect time to take the plunge and transition to a renewable energy source.
And while the initial investment will pay for itself after a few months of reduced energy bills, the switch to a more sustainable lifestyle is invaluable.