Mother's Day is right around the corner, which means it's time to start thinking of ways to solidify your rank as her favorite child.
You can't buy love, but you sure can demonstrate to her that she raised an ecologically responsible, global-minded, well-rounded human being. And that's the gift that keeps giving.
In this gift guide, we look at a number of Mother's Day gift ideas for moms that think about the kind of world they're handing to their kids (even if you're not a kid anymore).
Here are 20+ suggestions that will make your mama happy –while also helping her reduce her carbon footprint!
For the Chef
Instant Pot Pressure Cooker
Not your ordinary pressure cooker –this is a "multi-cooker", and it's one of the top cooking appliances on the market.
This energy efficient pressure can also replace 9 common kitchen appliances; it's a rice cooker, slow cooker, egg cooker, steamer, warmer, sterilizer, it's great with sauté, and it's even a yogurt maker. Yogurt! Oh, and it's a pressure cooker, too.
The reviews on this product speak for themselves, so be sure to take a gander over on Amazon.
Reusable Baking Sheets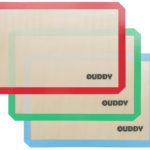 A full day of cooking can add up to a lot of waste, so it's best to reuse wherever possible.
Reusable baking sheets are the ultimate wax-paper killer — these silicone baking sheets are reusable, so your mom can stop wasting money while she's diverting waste from the landfill.
Silicone simplifies baking in ways that non-stick pans and wax paper never could. You can learn more about these here.
Filtered Water Pitcher
Bottled water is a dangerous gimmick — you are not healthier when you drink bottled water. In fact, studies show that bottled water has more bacteria than tap!
Take some of that low-cost tap water, ditch the bottles, and enjoy chlorine-free water at home by filtering it with one of these BPA-free water pitchers.
Kitchen Compost Bin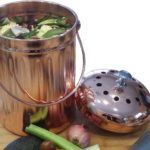 These aren't the compost bins we grew up with –these are well-designed, odor-free kitchen compost bins.
There's a few different sizes, designs, and builds at the link above, from beautiful counter-top stainless-steel to the purposed built under-the-counter kind.
Indoor Herb Garden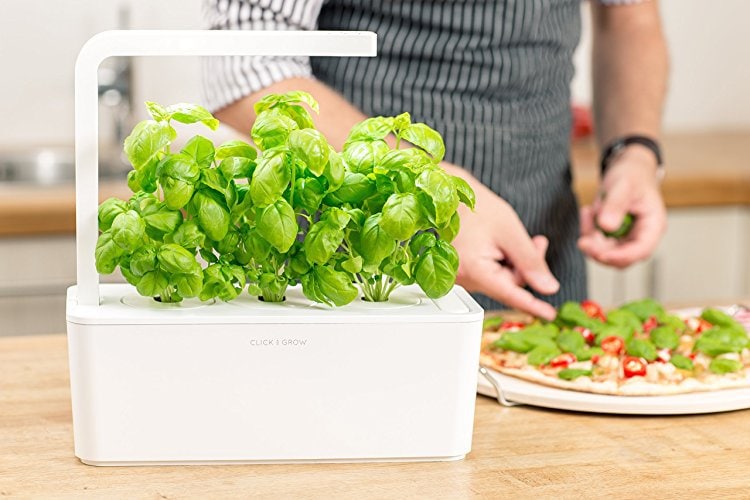 Dried spices lose their flavor before they reach the grocery store –give your mom the tools she needs to grow her own cooking herbs, right in the kitchen.
And there's plenty of options here, too; choose from classic old-fashioned or modern hydroponic models, like pictured above.
Surrounding your mom with fresh plants in the kitchen will help lower stress, too.
SodaStream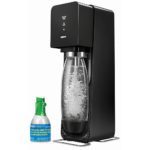 For moms with a sweet tooth, or who just enjoy drinking sparkling water, another way to eliminate plastic bottles (and lugging them around on grocery day) is to consider buying her the trendy new SodaStream.
It's got rave reviews from just about everyone and is a great way for your mom to be able to enjoy a variety of flavoured carbonated drinks without increasing her carbon footprint.
For the Bookworm
Amazon Kindle or iPad
Some moms love paperbacks –and all the power to them—although avid book readers tend to horde books that take up space, and they're made of trees, which, well. May not be a good idea when the world sort of has a shortage of those!
You don't need to be tech savvy to use an ebook reader, and you can even download books without using a computer. The Kindle e-reader is a great ebook reader, and more technologically savvy moms will love the iPad Pro.
Kindle Unlimited
Strolling further down the Kindle rabbit hole, the Kindle Unlimited program offers paper-free, unlimited reading. Great for keeping book-loving moms happy (and perhaps distract them enough to keep them from lurking on your Facebook or calling to ask you when you're having kids).
You can find information on Kindle Unlimited here.
Magzter
For avid magazine-reading moms, there's Magzter. If your mom's favorite magazines have a digital edition, she can reduce the amount of paper she tosses every month by signing her up here.
For the Green Thumb
Seed Kits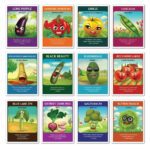 Help your mom cut down on monthly grocery expenses and get all the health benefits of reconnecting with nature, getting exercise, and eating healthy eats!
You can browse some food-growing seed kits here.
Outdoor Composting Bin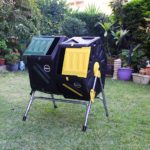 As if the kitchen composting bin wasn't enough, let's go full compost! Help your mom make her own fertilizers and lower her output of food waste to landfills with an outdoor composter.
You can find a nice selection of outdoor composters here.
Rain Barrel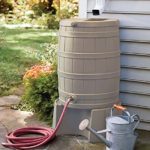 Reduce water consumption by repurposing the free kind that falls from the sky. Yes, folks — free water falls from the sky. That's as good as money growing on trees, and it's money in the bank (and a lower carbon footprint).
You can view a nice selection of rainwater barrels here.
For the Techie
When it comes to tech gifts, saving energy is the name of the game.
Energy Efficiency at Home
Reduce power consumption and gain more control over your home with the internet of things. This article has a number of suggestions that demonstrate how one can reduce their energy consumption and view usage details, right from a smart phone or tablet.
After you've checked out the article, take a look at these smartphone-controlled outlet adapters and light switches – your mom can make sure she didn't leave her appliances on, even if she isn't home.
Intelligent Thermostat
The Ecobee Learning Thermostat is a WiFi-enabled thermostat that also works with Amazon's Alexa voice recognition platform. The Ecobee will learn your habits, and then automagically control your in-house climate, reducing energy consumption and saving money in the process. This one's right out of Star Trek!
We also wrote in greater detail about how these systems work – if you're curious, give it a read.
Smart Irrigation Timer
Your mom can have all the lushness of the Amazon Jungle in her backyard and cut her outdoor water use in half with this handy little device. The Netro Smart 12-Zone WiFi Sprinkler Controller is weather, and will optimize water use for your yard's unique needs.
Solar Charger for her Smartphone or Tablet
We personally recommend the Solartab, as we've used it ourselves. And it just happens to be one of the best (read: also inexpensive) solar chargers on the market. When it's not in use, it looks just like a tablet. When in use, it charges devices with USB at maximum speed.
It looks great, and it's got great reviews — you can view the Solartab here, and save $20 off your purchase when you use code GREENR20 at checkout.
For the Fitness Lover
Being healthy goes hand-in-hand with living sustainably, and any of these gifts will help kick-start a green lifestyle, with health and fitness in mind.
Apple Watch or Fitbit
These devices have evolved past simple step trackers, and are certainly past that fad "status symbol" phase, too. Both the Apple Watch and Fitbit are ideal for tracking and improving upon physical activities so your mom doesn't push herself too far –or not far enough!
Learn more about the Fitbit and the Apple Watch.
Eco-Friendly Yoga Mat
Instead of buying those cheap Walmart chemically-infused toxic yoga mats, consider picking up an eco-friendly yoga mat for your one and only mama. And eco-friendly doesn't mean expensive – these mats are competitively priced and come in a range of sizes, colors, and dimensions.
Reusable Water Bottle
A well-hydrated mom is a healthy mom –these reusable water bottles are BPA-free, and some can even filter water on the fly! Check out the Klean Kanteen and this selection of filtered water bottles.
In Summary
We could spend all day window shopping for our moms, and hope we've inspired you with some ideas for your own moms on their special day! Are there any eco-friendly Mother's Day gifts you'd put on this list? If so, we'd love to hear your suggestions on Twitter @greenerideal.