Planning to move to a new home? Let us guess – knowing what to do with the excess clutter can get to your head!
Lightening & decluttering excessive items can help make the moving process smooth. It will also help you eliminate unused belongings and take less toll on your body.
A new house provides a fresh start where there is no place for junk. You can use digital marketplaces, junk removal services, and mobile applications to help remove your old stuff (don't worry, we're going to talk about all this detail).
We have discussed useful ways to take care of your junk while moving.
Have a look.
Sort Through Your Stuff
When you are deciding to move, segregate your belongings into different piles. This way, you can get rid of the stuff you don't need anymore. At a single glance, this might seem like a daunting task. But, once you get into it, you'll realize why it is so important.
There are some things to consider when deciding what to preserve and what to let go of. If there is any item that you've not used for at least a year, chances are, you can make do without it.
However, there's a catch. If the item holds sentimental value, you might be reluctant to part with it, which is understandable. Take your wedding dress, for example. You wouldn't have used it since your marriage, but that doesn't necessarily mean you should throw it away.
Another thing to consider is whether you love the item you're preserving? More often than not, we tend to hoard things that we might not like or those that might not be of any use to us. So ask yourself one question about each item (Kondo Style): Does this spark joy?
Then, let some go!
Organize a Garage Sale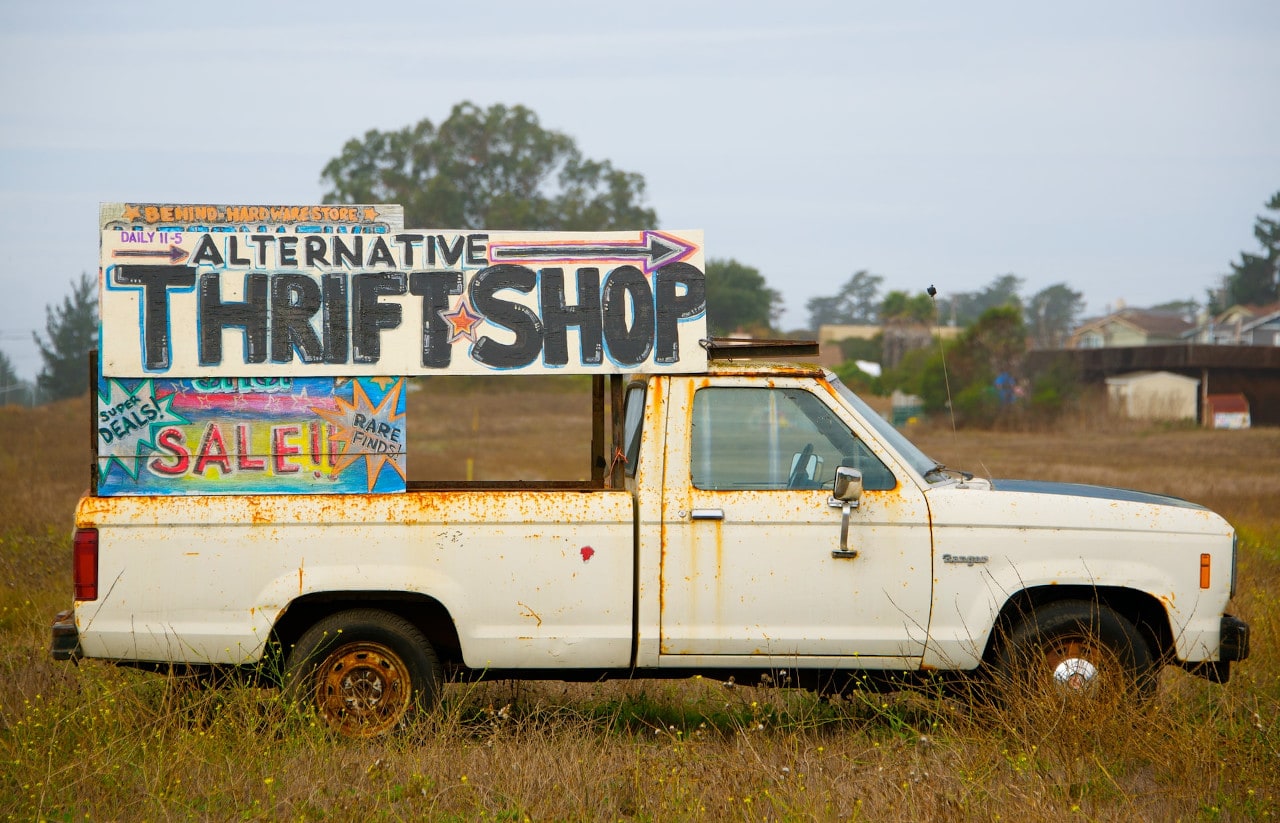 Once you have segregated your things into the Keep-it & Leave-it piles, your next step is to think about what you'll do with them. There is no use throwing away items that are in good working conditions.
So, why not organize a garage sale exhibiting those items?
It will give you immense pleasure seeing your old things in the possession of people who need them and who will appreciate them. Not to mention, a garage sale can also act as a monetary incentive. With the bit of money you earn via the Garage sale, you can cover your moving costs.
To make the most out of your Garage sale, advertise it on virtual platforms like Craigslist and Facebook. Post pictures of the things you are selling to attract buyers.
Having done the basics, let's now see how you can get rid of the various clothing, Electronics and Furniture stuff.
Ways To Get Rid of Used Clothing
ThredUp
If you are looking for a website to sell and buy secondhand clothes online, then ThredUp is the site for you. You need to create an account, and ThreadUp will provide you a junk bag in which you need to put all the clothes, shoes, and other stuff that you do not need anymore. You can then send it in the Post Office.
After ThredUp receives your bag, they will send you a list of the accepted items and put them up for sale on the site. Then, you will receive your earnings from the items sold.
Donation Options
Consider donating gently used clothes at – GoodWill, Salvation Army to Dress for Success and Planet Aid, and many other charitable organizations.
Ways To Get Rid of Used Electronics
Gazelle
If you are looking for an online marketplace for selling and buying pre-owned electronics, then Gazelle can be your solution. The company purchases previously used tablets, desktops, laptops, and smartphones. Gazelle will then inspect, certify, and sell the gadgets at reasonable prices.
Amazon
You can sell your gadgets on Amazon. You can also use Amazon's Trade-In Program. Here you can trade old electronic items for Amazon gift cards.
Note: While selling an item via Amazon's plan, the concerned company will collect some small fees.
Decluttr
You can sell your tablets, phones, CDs, DVDs, and other gadgets easily on Decluttr. You need to get a free online valuation and ship the items to Decluttr by using a free shipping label.
After receiving the item, the team at Decluttr checks the item to ensure that it is functioning correctly. If the thing is working correctly, they will remove all your data and pay you for the gadget the following day.
Ways To Get Rid of Furniture and Other Household Items
OfferUp
You can sell and buy your belongings online by downloading the OfferUp application. If you want to sell your furniture, all you need to do is post a picture and description of the table's condition.
You need to fix a price and wait for buyers to contact you on the application. The buyers are given a rating on the application to have an idea before meeting the potential buyer.
Nextdoor
You need to join the local Nextdoor.com group, then list and advertise the furniture items you wish to sell. It is easy to use and a free private social networking group that enables neighbors to interact and communicate online.
After signing up, you can list your furniture under the Classifieds category.
Junk Removal Services
If your furniture is damaged without repair (or any other household/office items), it won't make sense to sell or donate them. Consider junk removal by a professional company that will do the job of hassle-free junk removal.
Final Word
Moving your stuff from one place to another is never easy. However, it can be made possible by decluttering and selling/donating some of it before moving to a new place.
Which tip did you like the most in this article? Let us know in the comments section.