A fresh bouquet of flowers is enough to uplift your mood, especially when you unwrap it as a gift. Whether as a birthday gift, surprise from your better half, or a present for a special holiday, flower bouquets make for timeless gifts.
Because of the many benefits they provide; most people will hold on to the flowers for as long as they can stay alive, which is usually anywhere between seven and twelve days when properly taken care of.
Better yet, you can reuse them to ensure they last longer, benefit you and benefit the environment!
Why Reuse Flowers
Even after the 7 to 12 days where flowers stay fresh in a jar, you don't want to toss them away in the garbage bin just because they start withering. There are plenty of ways to reuse the gorgeous bouquet you received as a gift so you don't create more waste in our already struggling environment. Some benefits of reusing flowers include:
It is Eco-friendly – it reduces floral waste and pesticide residue pollution in water bodies
You realize more benefits from the flowers
The blooms can benefit someone else
Saves you money
5 Great Ways to Reuse Flowers
From whichever angle you look at it, reusing flowers is always beneficial and worth the time. Here are some ways you can repurpose or reuse those colorful blooms you received as a gift.
1. Regift Your Flowers
If you received a bunch or bouquet of flowers from your husband's company or several guests at your party in one go, you can easily re-gift some to a friend or even a complete stranger. It is a practical and amazing way to reuse blooms without contributing to the piles of waste and debilitating effects of pollution our lovely planet is suffering from.
Alternatively, ask friends whether they know anyone who'd be interested in some flowers. That lovely easter flower bouquet you received from your distant friend or relative could help put a smile on someone's face despite being in a hospital bed or bored in an elderly care home.
Some organizations will also gladly take flowers and redistribute them to places like charity homes.
2. Make Flower Potpourri for Your Bathroom
Even after drying, some flowers still retain a magnificent scent that helps you relax and de-stress. They can be fantastically therapeutic when turned into potpourri. This is perhaps best demonstrated in UNEP's piece, a Colorful Solution to Flower Waste, about how an Indian company excelled at turning flower waste into practical fragrance products.
Just pick up a few dried flower parts, dip them into a glass jar, add some water, and place them at a designated spot in your bathroom for some freshening magic.
3. Use the Petals to Make Scented Candles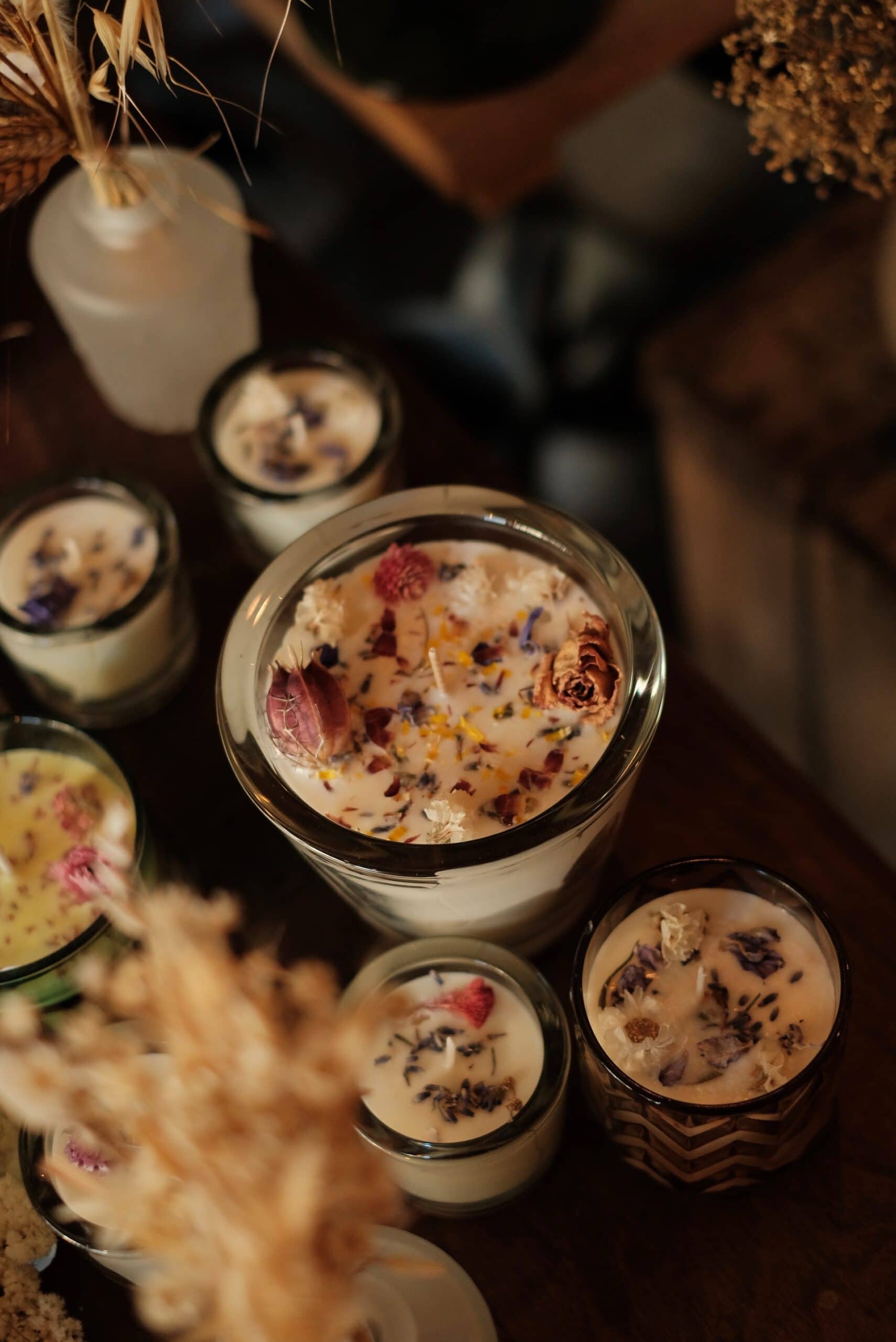 You could also make the bouquet's petals into warm, soothing, and fragrant decorative candles. Use wax to roll out flower petals and drop them into a small pan. Heat the pan over a gentle flame, and let it melt together. You can add different ingredients to give the flowers a wonderful scent.
4. Make Flower Wreaths for Your Door
If you got a lovely floral wreath at a local store, you can simply reuse the floral wreath. If it was a flower bouquet, however, cut off some of the stems and use them to craft a pretty flower wreath for your door.
You could also fill a glass vase with the cut pieces and paint them in green and red to decorate your door.
5. Use the Flowers in Compost
Flowers make perfect composting material. Many of their compounds break down into excellent fertilizer and fodder for your plants.
So, instead of just throwing them away, how about having some fun and making compost with them! In case you are really passionate about organic gardening, you could actually make use of your dying flowers to create something that will support new life – compost.
As one of the handy tools for composting, you can easily stick a stem into the soil in a jar. Add some water alongside other pieces of flower parts into the jar. Fill the jar with your compost pile, and cover the lid tightly, placing it in the sun to dry. Once it is ready, open the lid, and you'll have rich compost to use in your garden!
Conclusion
Reusing flowers is undoubtedly beneficial in many ways. You can re-gift them, compost them, turn them into sweet scents, or use them for dried home décor elements. Hopefully, this piece inspires you on creative ways to reuse cut flowers.