Maybe your allergies drive you crazy, or perhaps you have a baby on board. Whatever the reason, you've decided to ditch chemical cleaners and go all-natural. Good for you!
If you want to make your clean routine green and mean, you can make homemade versions of all those chemical-laden store brands. The best part? You probably have most of the ingredients you need right in your pantry. Here's how to get started!
Eco-Friendly Cleaning Products You Can DIY
Glass Cleaner
Glass cleaner is the most straightforward Eco-friendly cleaning products imaginable. All you need is vinegar and water, although if you prefer to use less elbow grease, you can add some rubbing alcohol into the mix. Blend one-third cup white distilled vinegar and one-half cup rubbing alcohol with a cup of water.
Countertop Cleaner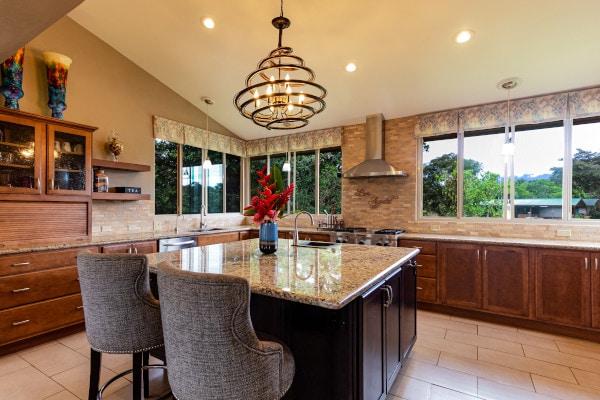 Your countertops can take a beating with all the food you prep there. You want to make sure you keep it free from germs. However, fragrances often lurk in commercial cleaners, and they can trigger adverse health effects like sinus headaches and severe allergies.
To make homemade cleaner, mix one-third cup clear dish soap, one-third cup vinegar, one-quarter teaspoon of baking soda and two-thirds cup of water. Add the baking soda last and measure it well — if you use too much, you'll get an old-school science class volcano.
Oven Cleaner
Did you know that the most effective natural cleaner for your oven may sit on your refrigerator shelf, absorbing odors? While there are a ton of recipes out there, you don't need extra ingredients if you have baking soda on hand. Out of a test of several different natural methods, a blend of two parts baking soda to one part water worked the best.
Whip the mixture into a paste and apply it to the filthy areas. Wait approximately 20 minutes and wipe away the remnants of that blue-ribbon pie — or frozen pizza.
Microwave Steamer
Could your microwave put the one in the office break room to shame? If you need to get it clean, harness the cleaning power of steam to do the heavy lifting for you. You can purchase specialty steamers or opt for a mug filled with water. Insert it into the microwave and run it for four to five minutes.
The steam from the water loosens up any food bits so that you can wipe them away effortlessly. Pro-tip — the mug will grow hot, so remove it wearing a mitt.
Carpet Shampoo
Did Fluffy cough up a hairball on your white area rug? While your kitty prides herself on making it to the carpet on time, now you have a mess to clean up. Commercial shampoos cost a small fortune, and they can contain environmentally damaging chemicals.
To make a homemade blend for lighter rugs, mix clear dish soap with hydrogen peroxide and water. You can add a few drops of your favorite essential oil to leave your entire home smelling fresh.
Mold Remover
Those unsightly black stains on the grout in your tub indicate toxic mold. While it looks hideous, long-term exposure can damage your family's health. To remove mildew from areas where moisture develops, you can use hydrogen peroxide, vinegar or baking soda.
Some species of fungus do resist vinegar alone, so you may wish to combine this solution with baking soda for optimal results — and to prevent regrowth.
Porcelain Polisher
It's time for everyone's favorite chore — cleaning the toilet. Fortunately, it doesn't take a Herculean effort to make your porcelain sparkle.
Make a paste of baking soda and water and spread it around the bowl. Then, pour in one-half cup of vinegar and scrub with the brush while it fizzles. Voila — all those nasty bits are gone.
Rust Stain Remover
Are you plagued with rust stains around your bathroom or kitchen sinks? While it's understandable anywhere water and metal mix, it looks ghastly.
Sprinkle some coarse salt, like sea salt, around the stain. Then, cut a lemon in half and scrub away with the juice. You can also mix vinegar and lemon juice for a stronger solution. Your sinks will sparkle, and your home will smell like citrus.
Fabric Odor Remover
You don't have to use chemically laden scents to eliminate pet and sweaty sock odors. You can make a homemade version of Febreze by blending one-half cup water with one-third cup rubbing alcohol. Add a few drops of your favorite essential oils, such as lemon and lavender.
Air Freshener
You still want your home to smell fresh even if it's too chilly to throw open the windows. However, using scented candles can release toxins like benzene into the air. Instead, opt for an aromatherapy diffuser. These use water and natural essential oils to add a light and lovely fragrance to your abode.
Make Your House Sparkle the Natural Way
You don't have to use toxic chemicals to clean your home. Embrace a few Eco-friendly cleaning products, and natural methods to keep your family breathing easier and feeling healthier!