As the implications of our waste problems ascend to the top of the international news agendas, more of us want more practical tips on how to do our part.
Switching off lights and being a conscientious recycler is a start, but how can we make a bigger difference, even if we don't have all the time in the world?
The World Economic Forum this year has cited new technologies as the most effective way to combat climate change.
For most, this can start by merely downloading an app on your smartphone or tablet.
Don't believe us? Here are 5 free apps that can help you save the planet.
1. Fat Lama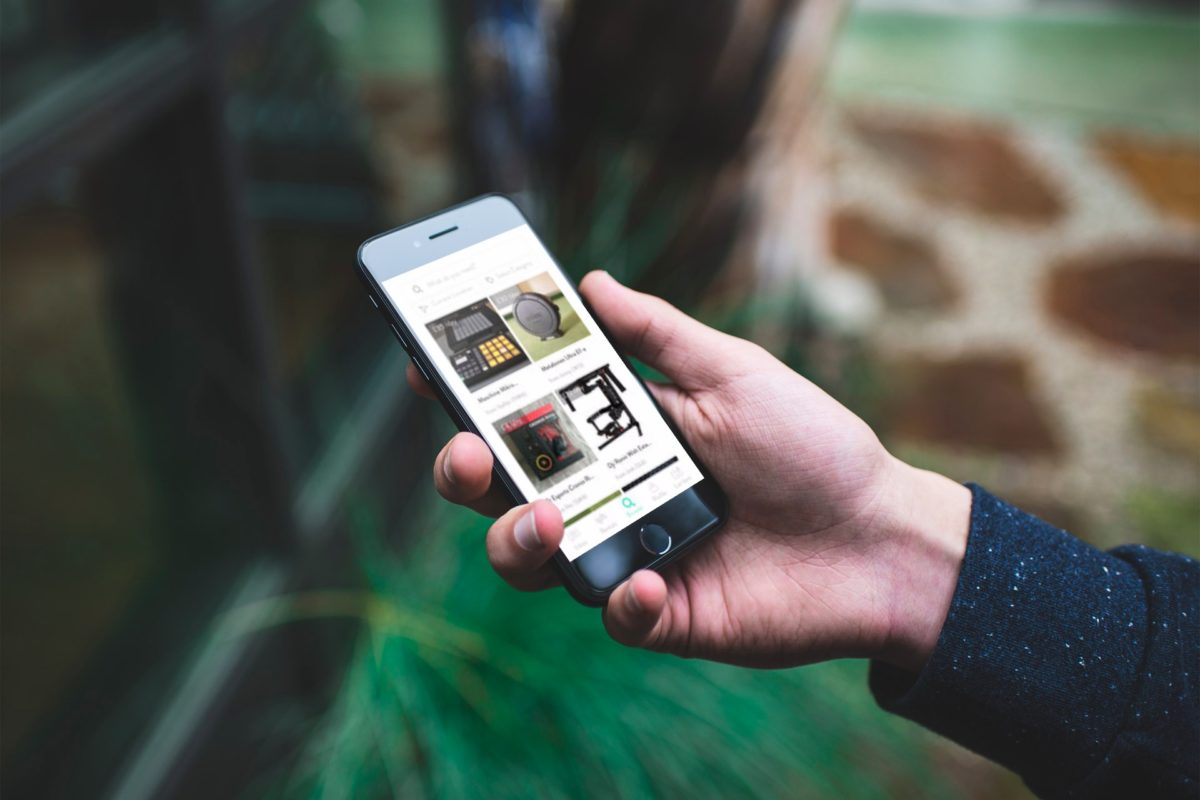 Didn't you hear that waste is going digital?
Yes, one of the biggest threats to our climate now is e-waste — and we're not talking about the trash folder on your computer.
The world is estimated to produce around 50 million tonnes of electronic waste per year, comprised of old phones, cameras, computers and other devices. Most of this is not only recyclable but reusable.
'What's to be done?' you ask.
One startup hoping to provide an answer is Fat Lama.
Created by a group of East-London entrepreneurs, this website/app lets you rent out any spare belongings you have to a local marketplace full of like-minded people.
Whereas usually to get hold of a camera or a projector, you'd have to buy one, Fat Lama allows users to simply borrow off others whose gear isn't in constant use, negating any need for a pointless purchase.
This quirky peer-to-peer marketplace started life in 2016 as a platform for renting specialist, high-end items, however has transformed into something more akin to a lifestyle.
Whether it's trying out kayaking, or going on a road trip this weekend, Fat Lama wants to motivate users to seek out adventure without the huge costs.
It's straightforward and you only need your bankcard to start renting.
On the flipside, it is a great way to start making money off any underused items lying around your home. Household items such as a Pasola nail gun can make $25 a day, whereas more specialist equipment like a DJI Ronin M Gimbal can fetch a handsome $63.
Not only can you make a substantial profit (with some users earning as much as $5,150 per month) but you're also saving the planet.
Helping to support the growth of a circular economy, over a production-driven economy is less wasteful and you still get the thrill of shopping. It's consumerism gone clean.
Visit Fat Lama or Download on iOS and Android
2. Carma Carpooling
Carpooling isn't just for James Corden: it's a great way to reduce emissions in cities and also save a penny or two.
In saying that, organizing it yourself can be a pain; entailing lots of awkward conversations with co-workers you'd rather not see out of the office.
Styled with the same technology as Uber, Carma Carpool puts you in contact with drivers making a similar commute. The app is run through your location services and fuel costs are simply charged to your card, so you can simply hop in and out guilt-free.
As cheap as it is easy, the average cost per mile is around $0.20 and you save on highway tolls to boot.
It's more interesting than driving yourself, more flexible than the bus and you're slashing your carbon footprint.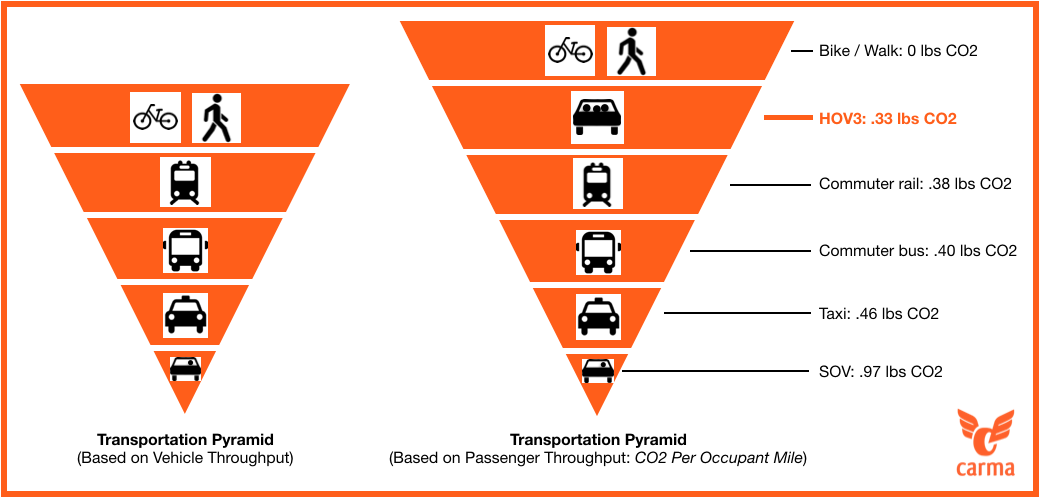 Limited to only a handful of US cities at the moment, Carma Carpool has plans for expansion overseas and are happy to work with local governments to get the app up and running in any city requested.
Vist Carma Carpool to join the beta program.
3. GoGreen: Carbon Tracker
It's all very well talking about our carbon footprint, but how many of you know what your flight costs in carbon? Or, more importantly, what impact the journey makes?
GoGreen's Carbon Tracker is designed to supply easily digestible information concerning your Carbon footprint by way of a personal rating.
Designer Anmol Parande believes that by being given a carbon 'score', users will be more likely to engage with actively reducing their emissions. The idea is that when compared to others, our impact becomes more tangible and perhaps even inspires a little friendly competition.
The app analyses everything from your heating to your journey across town and will offer bespoke advice on how you can reduce your emissions.
Download GoGreen Carbon Tracker free on iOS
Food companies are forever proclaiming how 'environmentally friendly' they are — but how much of it is true, and how much of it is bluster?
With Ethical Barcode, the facts are laid bare. The app allows consumers to check all manner of ethical considerations that go into food production — from animal rights to sustainability — simply by reading the barcode of products.
Using information gathered from 20 different Non-Profits and hundreds of other external sources, the app gives each product an overall score out of 100 alongside a breakdown of further relevant rating detailed information about the ethical social and environmental providence of goods.
The mission is to convert everyone to ethical consumerism in a heartbeat by making it simple and understandable.
By providing information that the general public doesn't have access to, Ethical Barcode gives power to the everyday consumer to boycott companies that have green washed their products.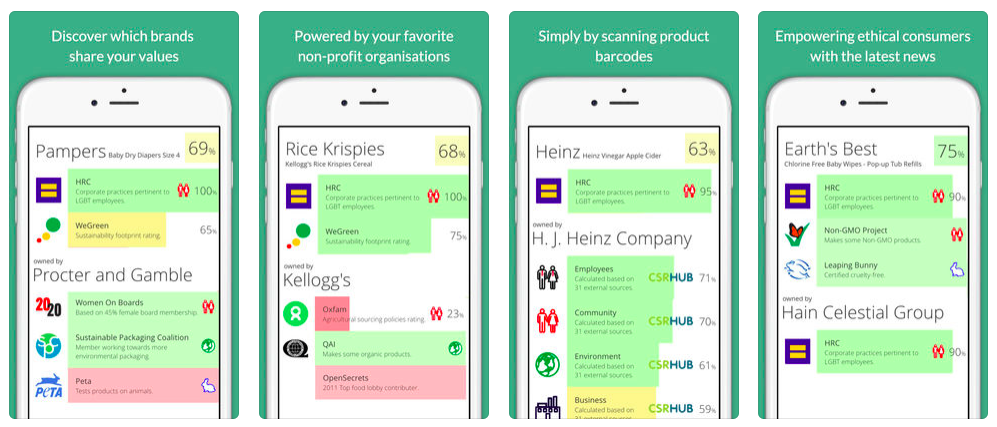 Visit Ethical Barcode or Download free on iOS or Android
It might sound pedantic, but how often do you leave the tap running when brushing your teeth? Or have six glasses of water on the go?
Water wastage is a huge problem, with the average person using a whopping 150 litres of water everyday! Despite this somewhat unbelievable figure, there is relatively little information circulating about water efficiency.
This gap in customer knowledge was exactly what inspired founder Robb Barnitt to create Dropcountr.
Driven by data-based analytics, Dropcountr helps monitor water consumption per household. The app itself is connected to your mains provider and supplies a breakdown of how much water you use per month (or per-day, if you have a smart meter) and analyses areas of waste, i.e. the leaky tap in your upstairs bathroom.
Users can expect to reduce their water consumption by 9% on average, which will save you money and save the planet.
Visit Dropcountr or Download Free on iOS or Android