Geothermal heating is the process of extracting heat from deep within the ground and distributing it through a duct system as warm air.
When used in a home, this technology can help lower electricity costs, and contribute to lowering our carbon footprint and reducing greenhouse gas emissions — thus helping to preserve the environment.
With geothermal heating, you do not use energy to produce heat, you are simply bringing heat up from the earth and into your home.
It doesn't consume as much energy like HVAC systems and its source doesn't always vary like wind and solar power. It's able to maintain the same efficiency in heating/cooling a house unlike other heating systems.
This is because the temperature of the earth almost always stays the same all year-round: around 50° and 60°F. The earth's core is the hottest and the temperature gradually gets cooler from the core to the surface.
How Geothermal Heating Works
High-density polyethylene pipes are buried deep into the ground and are connected to the house. The depth of which the pipe is descended to will depend on the location and size of the house.
Liquid is then absorbed through the pipes and delivered to a device called the geothermal unit. As the heart of the system, the geothermal unit can either act as an air conditioner or a furnace by heating or cooling air. Air will then be circulated through the ducts to make the house warm or cool.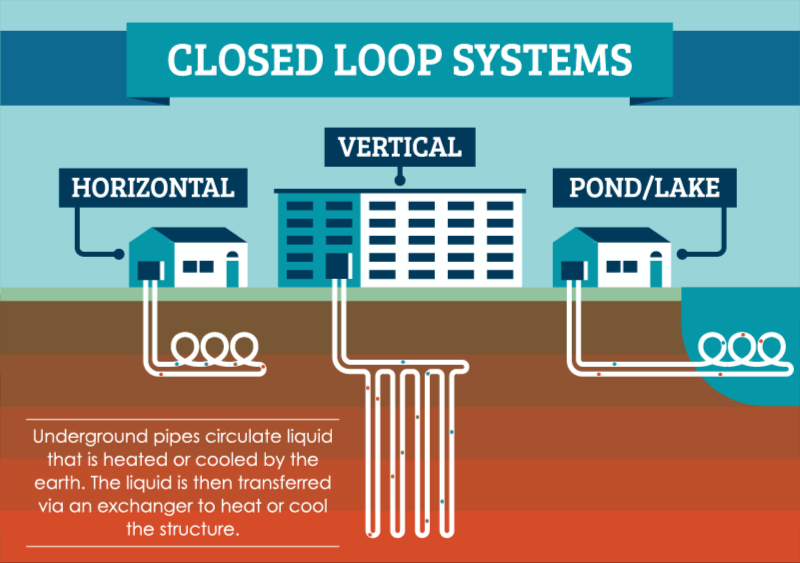 And because geothermal heaters are energy-efficient, no energy is wasted. You can add a device called a desuperheater which uses the excess heat to warm hot water which can then be used for bathing, drinking, washing, etc.
This video gives an overview of how a desuperheater works, cooling the air that passes through while making use of the excess heat for other work.
Whether you're living in a cool or hot place, you are guaranteed to enjoy the benefits of a geothermal unit. This home system works everywhere and replaces conventional heating and cooling without the use of electricity.
Pre-Installation of Geothermal Heating System
Before installing geothermal heating in your home, it is important that you first call an expert installer in your region. They will check your yard to make sure no buried piping will be affected during the installation process.
Note: When it comes to geothermal installations, only work with experienced installers and designers who are knowledgeable about the geology of your local area, as they will be able to size your geothermal heating system in a way that produces the best efficiency. 
Because geothermal heating does not require any noisy outdoor units, you get to enjoy sustainable energy without bothering house tenants or your neighbors.
Geothermal units only pump liquid and they can be placed indoors where it is safe from outdoor elements like weather, wind, and birds.
A Worthy Investment
As mentioned earlier, the cost of installing a geothermal heating and cooling system will depend on the size and location of your home. Soil conditions will affect how much drilling and digging has to be done. An expert will then calculate the length of the pipe based on the amount of heating and cooling that your house requires.
Despite the expensive front-end costs, geothermal heating systems can be beneficial in the long run because they rarely use energy. The amount of time it takes to earn back your investment is very short.
In as short as seven to eight years, you get your money's worth and enjoy generations of energy savings.
Federal Incentives for Geothermal Heating Systems
In some governments, residents can receive an incentive for retrofitting a home with a geothermal heating system. In Canada for example, one can receive as much as $3,500 of federal grant if they adopt the technology.
Be sure to read up on the efficiency standards before installation to make sure that you qualify for federal tax credits.
If you already have a geothermal heating system in your home, let us know the benefits you have enjoyed from having it on Twitter @greenerideal!