Small gardens might be compact, but they're also cozy and inspiring. You can make the most of your available outdoor space with nothing more than some minor small garden design tricks. Tiny patios, backyards, and balconies can be creatively transformed into lush-green leisure retreats and modern plant-growing areas.
Discover some visionary ideas on how to design your own mini paradise and allow it to become the favorite part of your home! Whether you plan on cultivating edibles, growing flowers and herbs, or shrubs and trees, your limited garden capacity should not be an issue.
In this article, we have gathered and listed some creative design ideas & solutions for small gardens that would freshen up and improve your outdoor space:
Choose a Purpose
Before you start rearranging your open garden, you need to consider its potential. Make sure to evaluate its area coverage and mind available environmental conditions.
Factors like sunlight, humidity, heat, airflow, and seasonal changes in the local climate are vital not only when choosing the greenery for your mini garden. They also need to be taken into account in regard to the type of outdoor space you want to create and maintain.
Leisure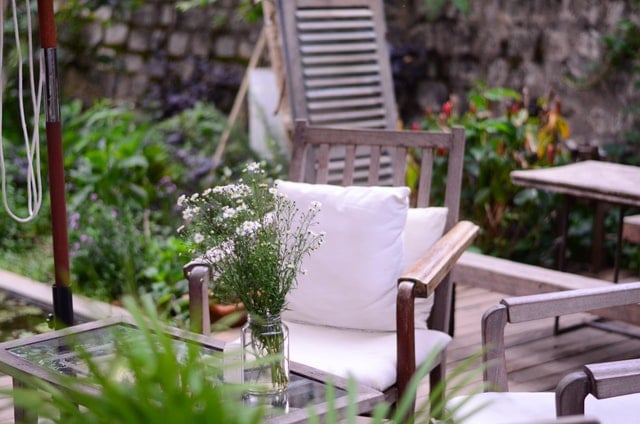 Small leisure areas surely spice up your life because you basically have a hideaway spot surrounded by nature at your own house/apartment. It's a place where you can relax, chill, read a book, and just have a break after a stressful day.
You can also spend quality time with your family or invite your friends over for a hangout. Make the most of a tiny outdoor space by adding the entertainment factor to it.
Such a leisure design includes furniture like lounges, benches, and hammocks, as well as homey decorations, vertical garden installments, evergreen crops, potted plants, and vine walls, taking up minimum space. To make it even better, you can introduce certain activity amusements into the concept.
Food Growing
If your general idea is to grow your own food, do not hesitate to freely use the open area as a farming ground. A lot of edibles could develop perfectly healthy in a pot. Just make sure you provide the greens with enough water, heat, nutrition, and lighting – and your garden will thrive.
There are many ways to make a mini home-grown plantation work without overcrowding and suffocating the plants. In fact, tiny balconies and compact backyards are the perfect setups for an impressive fruit or vegetable garden.
Considering the small available space, you can start growing edibles in vertical containers, arrange your pots on shelves or situate them on the window sills to cultivate herbs and berries.
How to Design a Small Garden Beautifully?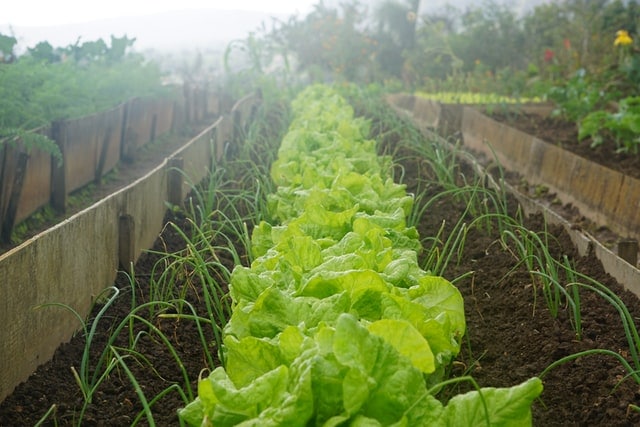 It's safe to say that small gardens come with lots of advantages. They can unleash your creative spirit, inspire new arrangements, and the best part is tiny spaces are simply low maintenance.
The possibilities for an impressive design are endless. The furniture, plant choice, and decor enhancement play a big role in setting up the vibe of the place. Make sure to decorate the open area depending on the style goal you have set for your garden.
Here are a few tips and tricks to make the task easier and make the most of your outdoor space:
Think Vertically
One of the most efficient ways to increase the capacity of your garden is to vertically implement shelves and ornaments on the nearby walls or fence panels. Optimal usage of vertical space ensures you would be able to enjoy lush surroundings and furnish your outdoor retreat without unnecessary area restrictions.
The setting up of a vertical garden requires level shelving, smart usage of initial wall structures, or sometimes installment of vertical grow modules. With such decorative implementations, small pots, containers, and baskets could easily be stored on the wall or hung down from a shade ceiling.
Another vertical strategy encourages pot planting of climbing plants situated under a bare balcony railing or yard fence. Such greens would get attached to the railed structure and would keep on growing alongside it, freeing up a lot of space in your garden and granting you some partial privacy.
Living walls of vines or trellises are also an amazing addition to any residential garden. These impressively textured plantings could freshen up any limited space and are perfect for covering up old or cracked facades, as well as shabby outdated structures.
Their modern and minimalist look makes an urban outdoor space homey and cozy, as it implies a sense of comfort and gives out a close-to-nature vibe. Make sure to set a good base for the plants to climb. For superb end results, the whole facade should be covered by climbing panels.
Keep the Furniture Along the Perimeter
Designing your outdoor area into a hangout location requires a few simple things. First, you have to keep the central parts of the garden clear in order to have enough space for group entertainment. With that in mind, all furniture and greenery should be situated along the perimeter.
The arrangement of the furniture has an enormous impact on how the outdoor area is perceived. Objects of interest like grills, hammocks, dining spots, games, toys, pet houses, armchairs, and benches should be located at the edges of your garden. Place them against walls and railings, or simply put them alongside in between greenery.
In case your space is awfully limited, try to look for alternative furnishings like half-sized tables and foldable chairs. Another solution is zoning the garden out, separating it into tiny different sections. It's easy to maintain a spacing illusion thanks to various decor options like rugs and plant ornaments. You can also achieve it by placing light-colored furniture next to a brick wall or paved area.
Use the Corners
Optimization of garden space stands for utilizing the full lot potential. In order to do that, you have to apply the corner strategy of furniture placement.
In simple words – situating the outdoor items on the edges of your garden. It not only creates more space in the central area but also visibility makes your yard or balcony look bigger.
The corner of an urban garden is a real gem. There are many amazing possibilities to transform it:
Turn it into a plant paradise. Corners work great with plant displays, shelves, and modules. You can create a green paradise that would improve your mood and leave your guests speechless;
Create a cozy pet retreat. Your pet would love to have its own kennel space, where it can chill and play with all its toys;
Make it a grill space. Utilize your corner by making it a fun place to hang out and make BBQ;
Situate corner seating and a dining table. Such seating efficiently saves a lot of space and is very popular amongst interior enthusiasts who work on projects for small packed places;
Place a bench, sofa, or armchair. Turn your garden corner into a place of relaxation, you can further decorate with cushions, lanterns, and blankets.
Get Creative with the Seating Places
Every private urban garden needs at least one zone for dining, entertainment, or chilling out. All these sectors always require relevant lounge and seat options, so why not get creative? We have a few seating ideas that could significantly improve the environment of your patio, yard, or terrace.
Extra seats are always a plus, especially when you have guests.
One of the best ways to always be ready to accommodate more people is to invest in foldable chairs or stack-up seating. Another option is to buy big floor cushions that could be piled up when you do not use them. They are easy to store as they do not take up much space.
Plant in Pots
A great garden does not always include ground planting or a lawn. Thanks to planters, concrete beds, and pots, it's easy to maintain a lush healthy outdoor area at home.
Almost every small and medium-sized plant could be cultivated and grown on your own balcony or deck (flowers, herbs, edibles, vines, trees, and shrubs). 
As most small gardens have free space issues, vertical installations are here to save the day. Consider placing your potted greenery on a ladder or windowsill to showcase them, or just mount some shelves on the walls to arrange them. With vertical placements, you can get as creative as you wish!