Planning on catering a party but tired of serving the same old chips and dip?
Try something new that will taste fresh and healthy and showcase your presentation skills — fruit carving!
Fruit carving has a long, rich history rooted in the Thai culture, and this royal fare can win a place on your party table with just a little practice.
Quick intro to fruit carving
Fruit carving is a delicate and beautiful art form that has been practiced for centuries in many different cultures. The basic principle of fruit carving is to create intricate designs by cutting away at the flesh of the fruit to reveal the shape of the design beneath.
This can be done using a variety of tools, from simple knives to more specialized tools such as veining tools and rotary cutters. Fruit carving is often used to decorate platters of fruit or elaborate displays, but it can also be used to create standalone works of art.
The first step is to choose the right type of fruit. Firm, yet ripe fruits work best, as they are easier to carve but still have enough give to create intricate designs.
Once you have selected your fruit, wash it thoroughly and allow it to dry completely. This will help to prevent your carving tools from slipping. Next, use a sharp knife to remove the skin from the fruit.
Once the skin is removed, you can begin to carve away at the flesh to create your desired design. Remember to work slowly and carefully, as mistakes cannot be easily undone
With a little practice, anyone can create stunning fruit carvings that are sure to impress.
A few fruit carving designs
Take a look at some of the ways you can use carved fruits and vegetables to accent your table.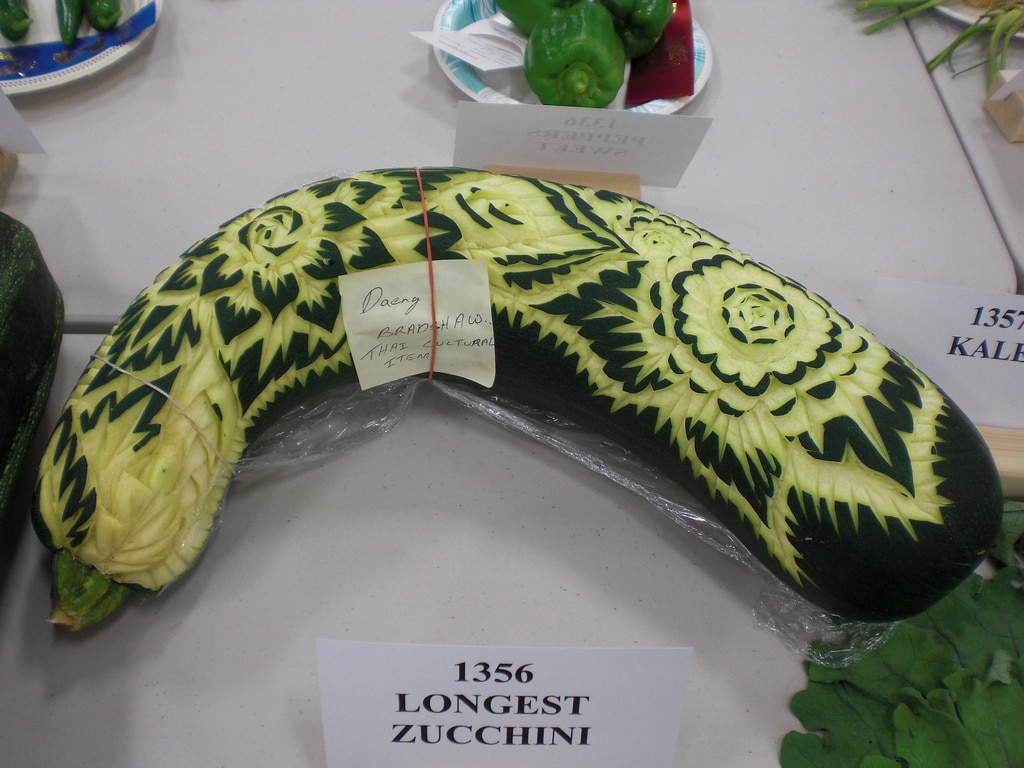 Yes, this is a simple zucchini, but the skin has been delicately carved to create a lovely embossed look that is worthy of nestling into the greens of a large salad dish, or even be a main centerpiece.
Imagine it setting on a bed of ruffly leaves such as kale or Red Sails lettuce.
Floral Arrangements
Perfect for a gathering in the spring or summer, a luau, or a pool party, these fresh and fabulous fruit sculptures are as beautiful to look at as they are tasty to eat.
These would make amazing centerpieces for summer weddings, if you are in charge of catering one, or simply want to add a unique touch to what is already in place.
Cut the bottom off level, leaving the piece only a couple of inches high, and surround it with flowers. Beautiful!
This almost looks like a real bouquet of flowers. Look at those roses.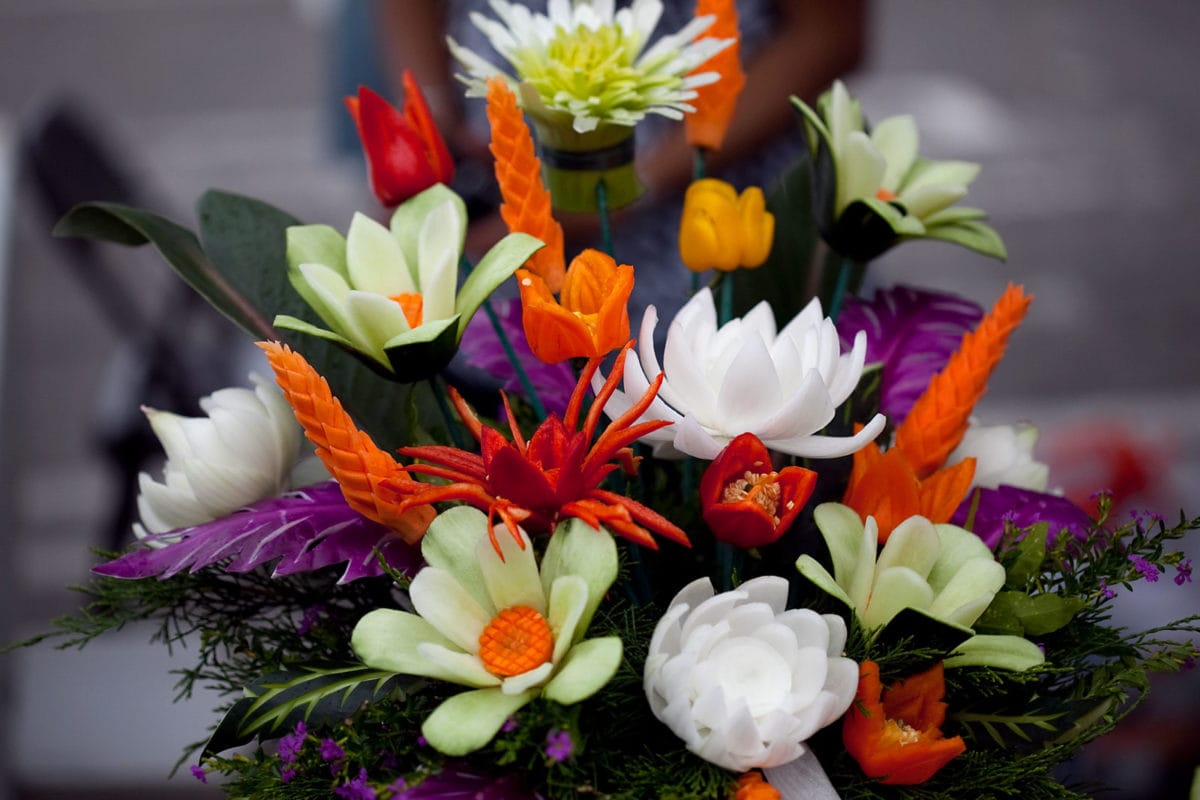 This one – I had to look twice to make sure those were not real flowers and not mere carvings.
If those arrangements seem to be above your skill level, try something a bit simpler.
Watermelons are particularly great for beginners as they have a thick rind, good color contrast, and a nice wide surface on which to work.
Check out this video for a quick tutorial on how to carve simple watermelon roses.
[youtube https://www.youtube.com/watch?v=iEw7TIT4R0k?rel=0]
Faces
Not for the faint of heart, if you want a carved fruit face for your party, you may need to hire a professional or take a fruit carving class.
Still, this is a great centerpiece idea for a graduation or a party celebrating a particular person.
Halloween would be a great opportunity to create some very interesting carvings, as well.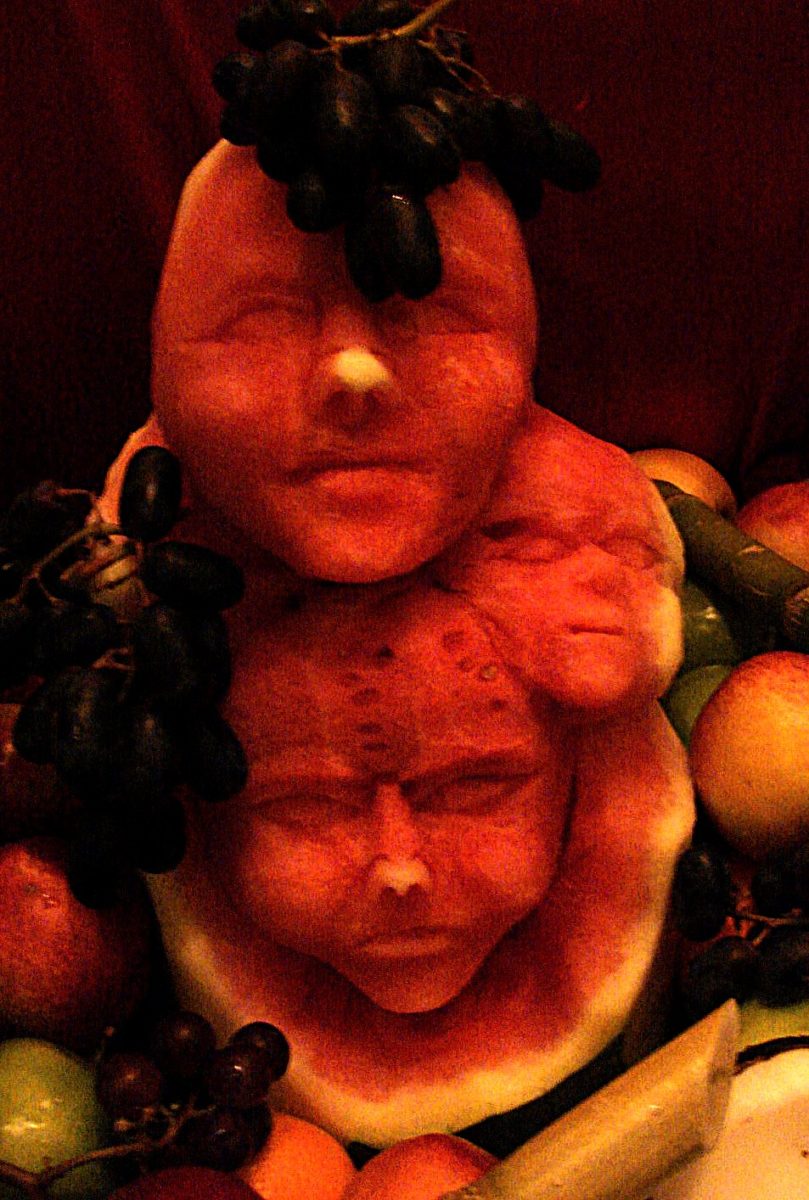 Just for Fun
Fun for the whole family (kids included!) can involve carving funny faces or familiar cartoon characters into fruits or veggies with hard rinds (jack-o-lanterns at Halloween sound familiar?).
If you're so inclined, you can even add props and stage little stories with your fruit characters.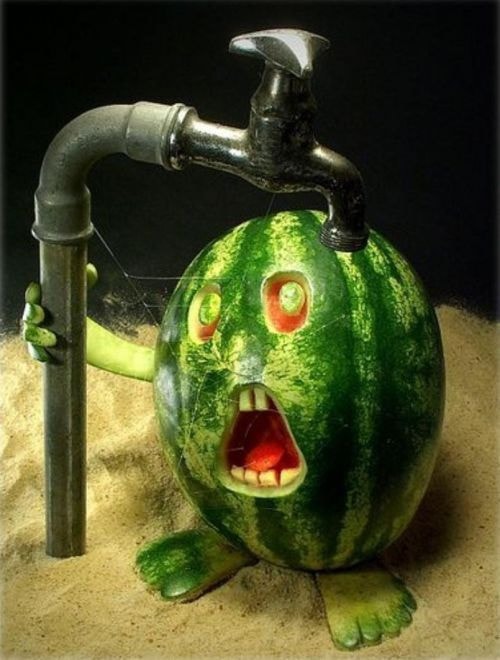 Back to the Basics
If these examples seem a bit too extreme, try starting with something smaller. Read up on the basics of fruit carving.
And, most importantly, remember to have fun.