The average wedding emits roughly 14.5 tons of CO2 into the atmosphere, and considering that the average person emits 12 tons a year, that's quite a considerable target to hit in one day.
And the trend doesn't seem to be slowing down – every year, weddings seem to grow "bigger and better" – brides-to-be are spending more and more money, inviting more and more guests, and being more and more extravagant. The average cost of a wedding has soared by $8,000 in the last ten years to almost $27,000.
However, a bridal backlash is starting. Couples are asking why they should be spending an exorbitant amount of money on just one day, especially considering that it's not only money they're wasting, but also resources. It's not just the dress that's used once; it's the decorations, the invitations, the flowers, and sometimes even the tableware!
But worry not, blushing eco warrior – we will do our best to send you down the aisle with a clear conscience. Keep reading below or use the quick links to jump to any section.
Quick Links
---
The Wedding Dress (and Suit or Tux!)
Your wedding attire could be very costly, plus the damage to the environment it produces as it is manufactured, so consider these three sustainable options for your dress, tuxedo or suit.
Many people prefer to rent their wedding dress, but you can also look for a vintage dress, tux or suit from a second-hand clothing store. There's nothing wrong with purchasing a second-hand dress either (it's only been worn once before after all!) Not only do you save virgin material, but you can potentially save a lot of money. You can use the same methods for the groom and the rest of the bridal party. Brides can even re-use their mother's wedding dress, if it calls for a vintage theme.
If you do opt for something new, choose to have your outfit made from certified organic cotton, silk, hemp, or other fashion-forward fibres. These materials use fewer chemicals in their production, and support social projects in developing countries. When the big day is over, consider recycling your dress afterwards. You could also ask your bridal party to wear their own dresses, while providing a colour, style or length as guidance to add some uniformity.
Consider choosing something that you can wear again, as this justifies the cost of having a dress or tuxedo made. The same goes for your veil: don't splash out on a veil that is only going to be worn once. A headpiece that can be worn again can be tailored to complement your dress or outfit. You can even design your own from vintage buttons, old jewellery and fabric that you have around.
Top tip: Check online for vintage or antique wedding dresses. There are many companies to choose from, all offering unique designs and fabrics.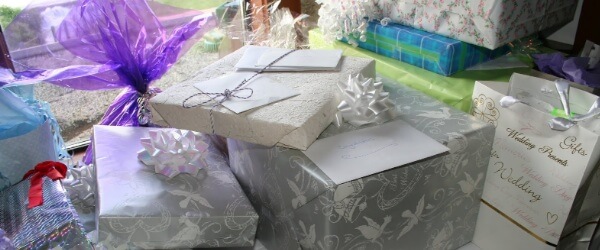 Wedding Gifts
When planning your gift registry and buying small favours for your guests, choose items that are environmentally-friendly, socially responsible and durable. How many crystal wine glasses do you really need? Although wedding gifts are largely well-meaning, most of them probably aren't to your taste.
Registering for what you want will minimize unnecessary gifts. Choose gifts that hold certification, to make sure that the environment is considered first.
Instead of simply registering for gifts, try to create your own wish list of eco-friendly gifts you would like – which is really simple to do if you've created your own wedding website. Choose gifts that are produced in your area. This way you cut down on the distance that items travel and support local producers.
You could also try asking for donations towards your honeymoon using an online cash registry site, to avoid ending up with tons of crockery you just don't need.
Or if you're one of those couples that already has everything you could need, why not ask your guests to give to a charity instead?
Oxfam has a wedding-friendly approach to charity. At Oxfam Unwrapped, your guests can choose to buy a gift for impoverished people in developing countries; this could be anything from putting a child through education or buying a family a goat!
Oxfam will send you pictures of the people who've directly benefited from your gifts, which you can display on your wedding day, for that feel-good factor!
Top tip: Instead of a full wedding registry, have some charitable options or get your friends and family to give towards your eco honeymoon. That way you'll be able to afford a responsible holiday.

Wedding Favours
If you're having attendants at your wedding, you should consider the gifts you'll be giving to your bridesmaids and groomsmen. When it comes to bridesmaid gifts, it's useful to pick something that they will want to use time and again.
Choose gift favours that are useful and lasting. This way people will continue to use them well after the wedding, instead of tossing them into the trash a few months later.
Wedding Rings
Your wedding rings will be with you for the rest of your married lives, so make sure you choose ones that are as ecologically conscious as they are personal.
Consider these three important factors:
Why not buy vintage, antique or heirloom rings? This way you limit the use of virgin material, and carry on a tradition.
Opt for silver before gold, as the mining of this metal has less impact on the environment. Precious metals are mined heavily from the earth, usually causing environmental degradation and human exploitation in other countries. Go for a set of guilt-free sparklers from recycled gems.
Choose a "conflict free" wedding band. Make sure any diamonds you buy are certified to be ecologically and socially responsible. Many diamonds are mined in countries ravaged by war as a result of these little stones. For some couples, knowing that their wedding band is conflict free can be a real weight off their minds. Due to the growing demands for conflict free wedding bands, there are many suppliers that you can now turn to: greenkarat.com and brilliantearth.com are great choices.
Top tip: Only buy precious metals and stones if they carry certification.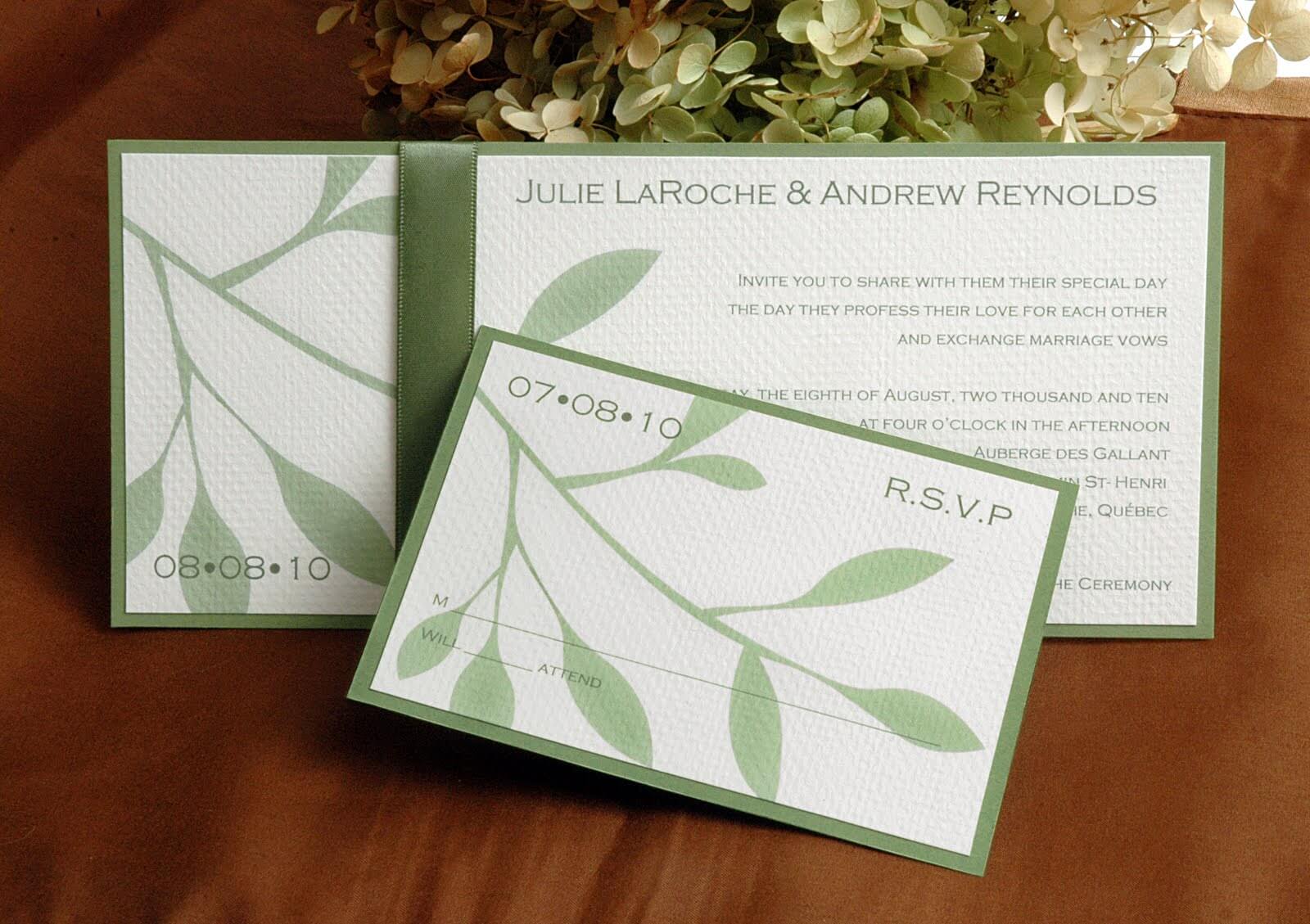 Wedding Invitations
First, consider who you're inviting. Simply put, the bigger your wedding, the more environmental impact it will have. So you may want to consider making your ceremony an intimate affair of just immediate family and close friends. If you aim to have no more than 50 guests, it will also help to reduce the cycle of deciding "if we invite this person then we have to invite that person…".
Next, what material will you use for your invitations? Paper invitations are fairly wasteful, and can be very expensive if you're using a professional printing company. If you're going to print your invites, choose chloride or chlorine free paper, containing 20%-100% post-consumer recycled content and print using vegetable and soy-based inks. If you choose store-bought invites, look for ones that carry green certification, such as FSC or 100% recycled content. Or try printing on paper that has seeds embedded inside. This way your guests can plant the invites after the wedding, and have flowers or herbs to remind them of your special day.
If you're looking for something far more environmentally friendly than paper printing, your next best option would be to go digital. You can create a gorgeous PDF, or perhaps pay a designer to design an online invite. This will cost much less than paper invites – and you keeping the process green by using the absolute least amount of paper.
If you want to take it to the next level, you could even create a website dedicated to your wedding. You can offer all the necessary information for your guests, such as location, menu options and registry list. Your guests can also RSVP via this website and print off directions to the venue. Eco-friendly and a digital dream! You'll save trees, ink and costs. Sure, you may want to print some invites for older members of the guest list (like your granny!) who may not have the internet or be tech-savvy, but that's fine! Cutting down on your paper usage this way has a big effect.

Wedding Catering
The food at the wedding reception is going to be one of your biggest costs, so make sure you get what you want and that your money is being well spent.
Try to make sure all of your food is organic and locally sourced, and that meat and eggs are free-range. These products carry many eco-conscious credentials, from the fact that no harsh chemicals are used in their growing, to the limited fossil fuel use in transporting them.
Try not to over-cater, as a lot of this food will end up as waste. Use bulk condiments and decant into smaller containers for serving. Serve pitchers of chilled tap water and not bottled water, and go for a sustainable alcohol option, like some eco-friendly wines.
You may also want to consider creating a vegetarian menu. Some of your guests may not like the idea of turning vegetarian for the day, however making the menu vegetarian can be like a cherry on the cake.
If you do have leftovers, give this food to shelters or organizations in your area that could pass it on to the less fortunate.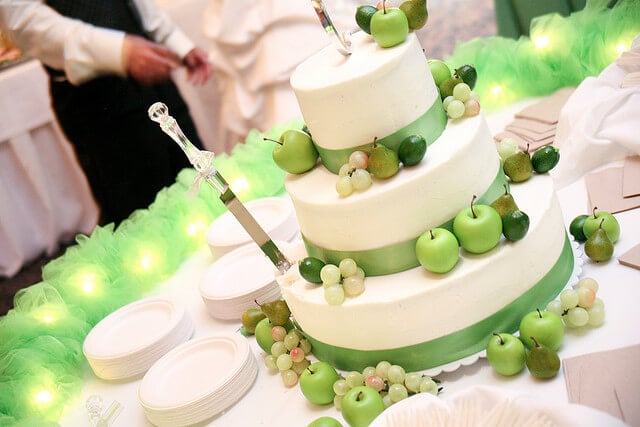 Wedding Cake
Most weddings feature some cake monster which rarely gets eaten. Instead, go for something simple. Choose your favourite cake, whether that's strawberry and cream or cupcakes!
Top tip: Get your cake-maker to use organic and fair-trade ingredients.

Wedding Ceremony Location and Transportation
Whether you choose to swap vows under century old Oak trees in a park, or say "I do" in a church, it is important to ask yourself whether your venue of choice has an environmental policy, covering issues like water and energy use, waste management and efficient lighting and heating.
You should consider having your ceremony at a site or venue that's already dedicated sustainable, such as parks, protected areas, organic farms, or museums. If you live somewhere sunny with reliably good weather, then opting for an outdoor wedding ceremony and reception is a great way of saving on your carbon footprint. All you need is a garden, lawn or any open scene with green surroundings. You'll be keeping the costs down on heating, air conditioning, lighting and electricity – so these is a great way to stay green.
If you are hosting your own reception, look to use your own crockery and dishes instead of paper and plastic tableware. You can personalise it by using slate boards to serve your dishes on and then you can keep this as a lasting reminder of your special day.
You should also try to have the ceremony and reception at the same location (or at least near one another). It's bad enough that everyone will be driving over, so don't cause any more travelling.
Consider recommending ride-sharing and public transportation options to your guests for their travel to and from the hotel and wedding and reception venues. If you're looking to splurge, you could even arrange for a group-transport method: rent a bus to transport all your guests around on the big day (or a coach – for something less vintage). It saves everyone packing into all their difference cars and vehicles, significantly reducing the wedding's carbon footprint, while at the same time ensuring everyone arrives (or departs) on schedule.
And for the bride and groom, think about hiring a horse and carriage to further cut down on carbon emissions while adding a romantic touch.
Your guest list may have some out-of-towners on it, so when planning your special day, consider the impact that their travel and accommodation will have too. Be sure to share green lodging choices and transport options, and give guests an opportunity to offset their greenhouse gas emissions. Make specific recommendations for green certified accommodation and transport suppliers based on their eco-credentials.
Wedding Decorations, Centrepieces and Favours
Creating beautiful bouquets and table settings will summon all of your creativity, and eco-savvy skills. Think outside of the box by using local, seasonal and organic goods for your displays.
Focus on these three points when planning flowers and decor:
Many flowers come from countries where pesticide and chemical use may not be regulated, so it's best to buy organic flowers or wildflowers from a local florist or at your local farmer's market. Or even better, grow your own flowers at home.
Reuse and repurpose items that you already have at home, such as vases, tins and baskets to make beautiful table settings.
Make sure any fabrics you use for table cloths, runners or napkins come from organic material.
Go as minimal as you can with decorations – for example, don't worry about chair covers, aisle runners or fussy table additions. Instead of using cut flowers for your centerpieces, choose locally grown, potted flowers, or edible centerpieces such as bowls of fruit. Guests can take these home afterwards as their wedding favours!
For your bridal bouquets, try to use seasonal, locally grown flowers that have not been chemically treated – there are many florists that now offer green options and will discuss these with you if you ask.
If the venue allows your guests to throw confetti, look for dried petal confetti, recycled paper (all ripped up), or lavender buds. Not only does it look prettier but it is an all-natural product that won't cause any harm to wildlife and will biodegrade naturally.
Think about the table plan and write the name or number of your tables on chalkboard, the same can be done for the menus. This will save on the amount of paper you need to use, and on your printing costs.
Use leaves as place cards: Instead of writing all your place setting on paper – opt for writing their names on leaves instead. Or better still, go to a local beach and pick up some pebbles which you can write on. You can always return them after the big day!
Try dimming the lights and using candles as your primary lighting source. If you have a winter wedding, consider using upcycled glass jar candle holders, which you can send your guests home with as gifts. At outdoor weddings, avoid using patio heaters and go for a bonfire for warmth – if you supply marshmallows, you and your guests will be guaranteed a great night!
Top tips: Always try and reuse something you already own, as this will limit the need for unnecessary material use, and will ultimately save landfill space.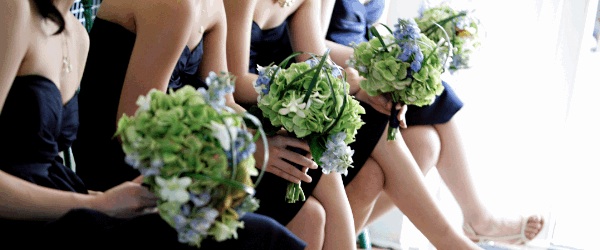 Recap: Top 10 Tips for a Green wedding
Digital invites will save paper, ink and fossil fuel, so go green by going digital.
Choose to travel by train, bus or shared car instead of flying wherever possible.
Choose to stay in eco-certified accommodation.
Choose a venue that promotes sustainability, and operates responsibly.
Opt for a vintage or antique dress or tuxedo.
Make sure any precious metals or jewels are certified environmentally friendly and socially responsible.
Choose local, seasonal and organic produce for your wedding menu. Even your cake can be made with these ingredients.
Use indigenous flowers grown by local farmers for your bouquet and table arrangements.
Give your guests favours that are functional, made from recycled material or are easily recyclable.
Instead of the usual gift registry, as for donations to a charitable organisation, or to your green honeymoon.
So, with a bit of careful planning, it will be easy for you to make your wedding that bit greener. The easiest way is to take a look at what you can change to make the day more environmentally friendly, from your first planning stage right through to the last dance.
In order to make a significant change, it helps to hold that ideal all the way through. Then, you can rest easy knowing that your special day has been special in every single way!