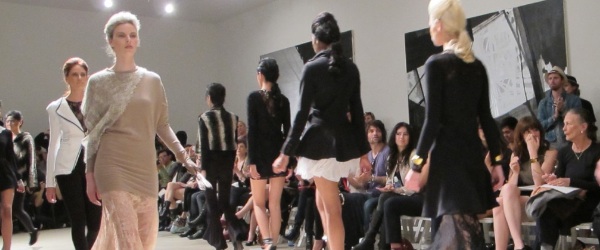 Famous designers and popular fashion brands have recently looked into going green by using eco-friendly fibres in the manufacture of clothing and other apparel. Many have used organically grown cotton, hemp and natural wool, yet few have looked much further.
Mother Nature has many versatile products up her tailored sleeve, so take a look at some of the future trends in fashion fibres.
1. Stinging Nettle
Obtained from the Brennessel plant, which is naturally resistant to parasites, stinging nettle can be grown without pesticides and herbicides, and requires little fertilisation. It can be mixed with organic cotton, soybean, bamboo or linen fibres, and spun into yarn.
Benefits
Nettle fibre is stronger than cotton and finer than linen fibre.
The fibres are hollow, which accumulate air inside, creating natural insulation.
They can be made into a wide range of woven, as well as knitted, fabrics.
Much of the fibre is grown and produced in Nepal, offering jobs to thousands of villagers in rural environments.
2. Pineapple
Another eco-friendly material gaining popularity is the pina fibre. It is extracted from the pineapple leaves by hand scraping, retting, or decortication (motorised blades scrape off the pulp in order to separate the fibre). The fibres are hand spun into ivory-white coloured and naturally glossy fabric.
Benefits
Pineapple fabric is lightweight, soft, semi-transparent and a little stiff.
Many rural communities around the world harvest this fibre, creating employment opportunities.
The fabric is often used in haute couture, so more money is paid to harvesters.
3. Bamboo
Bamboo fibre is a regenerated cellulose material (a soft wood). However, it is only eco-friendly when it is extracted through mechanical means. When processed, the crushed bamboo is treated with biological enzymes, which breaks it into a mushy mass, after which individual fibres are combed out.
Benefits
Bamboo fibres make smooth, soft, antibacterial and luxurious fabric, and are highly absorbent.
Organic bamboo fabric is left unbleached by the manufacturers.
Communities in India, China and throughout South-East Asia benefit from harvesting this fibre.
4. Milk proteins
To make fibre from a liquid, the milk is dehydrated (all the water content is taken from it) and then skimmed. With the help of bio-engineering techniques, a protein spinning fluid is made. Wet spinning processes convert this fluid into high-grade textile fibre.
Benefits
The skin-friendly milk yarn produces glossy and luxurious fabrics similar in appearance to silk fabrics, which have antibacterial and antifungal properties too.
They have excellent moisture absorption qualities.
They can be blended with a number of other natural fibres, such as bamboo, to get a breathable material or, with wool, to create a thermal protective fibre.
5. Banana
This fibre is extracted by hand stripping and decortication. With similar qualities to bamboo, banana is 100% eco-friendly.
Benefits
It's shiny, lightweight and bio-degradable, and absorbs moisture very efficiently.
Banana fibres are strong and durable, and are still used for making ropes and mats in some developing nations.
Fibre production employs thousands of people in poor communities in tropical countries.
With its many qualities gaining popularity in the fashion industry, many clothing lines and interior designers are fast adopting this fibre.
What to look for in natural fibres
Whatever plant or animal the natural fibre you choose comes from, one of the most important aspects to consider is that no chemical pesticides or fertilisers are used in cultivation, and that no synthetic, toxic dyes or bleaches were used in production. If none of these harmful products are used, the products are as close to being organically grown and manufactured as possible.
Top tip: Check the product for fair-trade or organic labelling. This is a quick way to tell if few or no harmful chemicals were used. You will also be supporting communities that practice environmentally friendly cultivation practices.
Where to, or wear too?
The new trends in eco-friendly fibres have been driven by concerns over environmental damage, caused by the mass-production of fibre-yielding crops, such as cotton. It is high time that fashion designers, clothing labels and buyers look into supporting eco-savvy ensembles. In the hunt for new, fashion-forward materials, we never know what may pop up on catwalk in the not-too-distant future. Green may well be next season's hottest trend.
Top 5 Tips – Eco-friendly fashion
The next time you need a new piece of clothing, scout for an eco-savvy version, made from a natural fibre.
Check the labels for certification standards, such as fair-trade, organic or other ecological and social projects.
Know that by buying clothing made from sustainable fibres, you are benefiting the environment, and supporting communities who rely on these products for income.
To avoid throwing clothes out, buy classic pieces of clothing made from sustainable natural materials that won't go out of style.
Even though the price tag may be a little higher, it is important to remember to buy better quality clothing that will last longer.