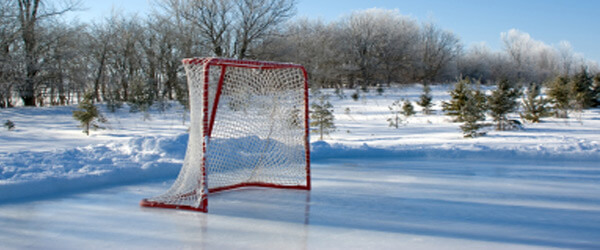 With another three months of winter to go, now is the perfect time to take advantage of those frigid temperatures by making an ice skating rink in your backyard. All you need is a bit of space, a lot of water, and the know-how to make it all work. Here's some help to get you started.
Step 1: Pick a good spot and take measurements.
While your rink doesn't have to be any particular shape, it is important to make sure that the space you choose is flat. Also, make sure that the area is free of rocks and other debris. Now measure the diameter.
Step 2: Gather your materials.
Here's what you will need:
PVC pipe (at least 2 inches tall and long enough to fit the diameter of the rink)

PVC joints (for the rink's curves)

Vinyl tarps (to fit the area of the space)

Water

Sealant
Step 3: Lay the tarp.
Lay the tarp over your designated rink space. Don't worry about fitting the exact shape—this will be tended to later on.
Step 4: Assemble the PVC pipe.
Put together the PVC pipe and place it on top of the tarp. Make sure it's in the size and shape that you wanted for the rink itself.
Step 5: Get rid of the excess tarp.
Cut off the excess tarp surrounding the PVC pipe, leaving only an extra inch. Now, using the sealant (this should be heavy-duty and capable of withstanding harsh weather conditions), glue the extra inch to the PVC pipe. This will keep the water inside the structure.
Step 6: Fill your rink with water.
Fill the space you've created with 1.5 inches of water. Because the water expands after freezing, your rink will end up being 2 or 2.5 inches thick.
Step 7: Wait for freezing temperatures and get ready to skate!
Once the water has successfully frozen, it's time to lace up those skates and have some fun.