'Tis the season, and you know what that means? Lots of drink, food, decorations and… well, lots of everything really. Christmas is all about overindulgence, excess consumption and… Giving? Family? Love? Something like that. But really, it's all about stuff.
Fortunately, it doesn't have to be so damaging.
There are multiple guides out there to help you celebrate on a budget, to keep the pounds off be eating mindfully and how to survive the family holiday without killing anybody.
But this article isn't about any of those things.
Specifically, this post will tell you how you can easily decorate your home this Christmas in a way that minimizes the harmful impact that this jolly ole' season can have on the environment.
From the halls, to the decks, from the tip of your tree to the front door, there are ways that, even in the festive season, you can easily keep it green throughout your home.
The Eternal Debate: Faux or Real Tree?
My mother is from Canada, so a real tree every year was a must. My father, however, used to complain how wasteful and damaging such a practice was.
So, we've come to the biggest question known to all of mankind: Which is better: a real or fake Christmas tree?
In Eco-friendly circles, we've come to assume that if we can reuse it, it's better for the environment. However, the Christmas tree may be the exception to the rule.
While it may seem harmful to the environment to cut down a tree, most of these trees are replanted and grown anew the following year. To make a stronger case, in certain countries, cutting down trees is confined only to areas that are surrounded by overhanging phone lines, and the tradition of cutting down these trees actually means that you're putting trees that would be cut down anyways to good use.
And, after the season, real trees can be easily composted and returned back to the earth. In fact, reports suggest that 93% of trees are "treecycled" in the US through easy to access treecycling programs.
Just be sure that the tree you've selected hasn't been treated with pesticides or chemicals.
Fake trees, however, have been manufactured with harmful chemicals, such as polyvinyl chloride (PVC), and while you may reuse your Christmas trees, you must remember that the minimum use of an artificial Christmas tree to be green is 6 – 9 years, according to the Christmas Tree Association.
Lights, Cameras and… More Lights
Lights are a huge part of creating a festive ambiance over the holidays. Of course, I'm not going to suggest that you throw out all your old lights and replace them with new ones right now or you're just like… the worst. That's just wasteful and I'd never suggest being purposefuly wasteful.
However, once your traditional lights burn out, it's a really great idea (for the environment, for your home and for your pocket) to replace them with LED lights.
LED lights use less energy (yay for the environment!), they don't get hot to the touch (yay for your home not burning down!) and they're less costly to run (yay for your pocket!).
It's a win, win… win situation really!
Food for… Decorations?
Christmas is all about food, so why not incorporate that into your decorating? Think gingerbread, popcorn, cranberries and candy canes.
Foodie decorations are easy to compost once the season is over, or, you know… You can just eat them.
Nyummm.
Other fantastic options that are super environmentally friendly can be found in your local forest. Yup, you guessed it: pinecones and acorns! These are so festive, add a real cosy feel to your decorations, can be spray painted different colours etc. to make beautiful centre pieces, added to your Christmas tree, or to your garland on your mantelpiece / bannisters.
Gift Wrapping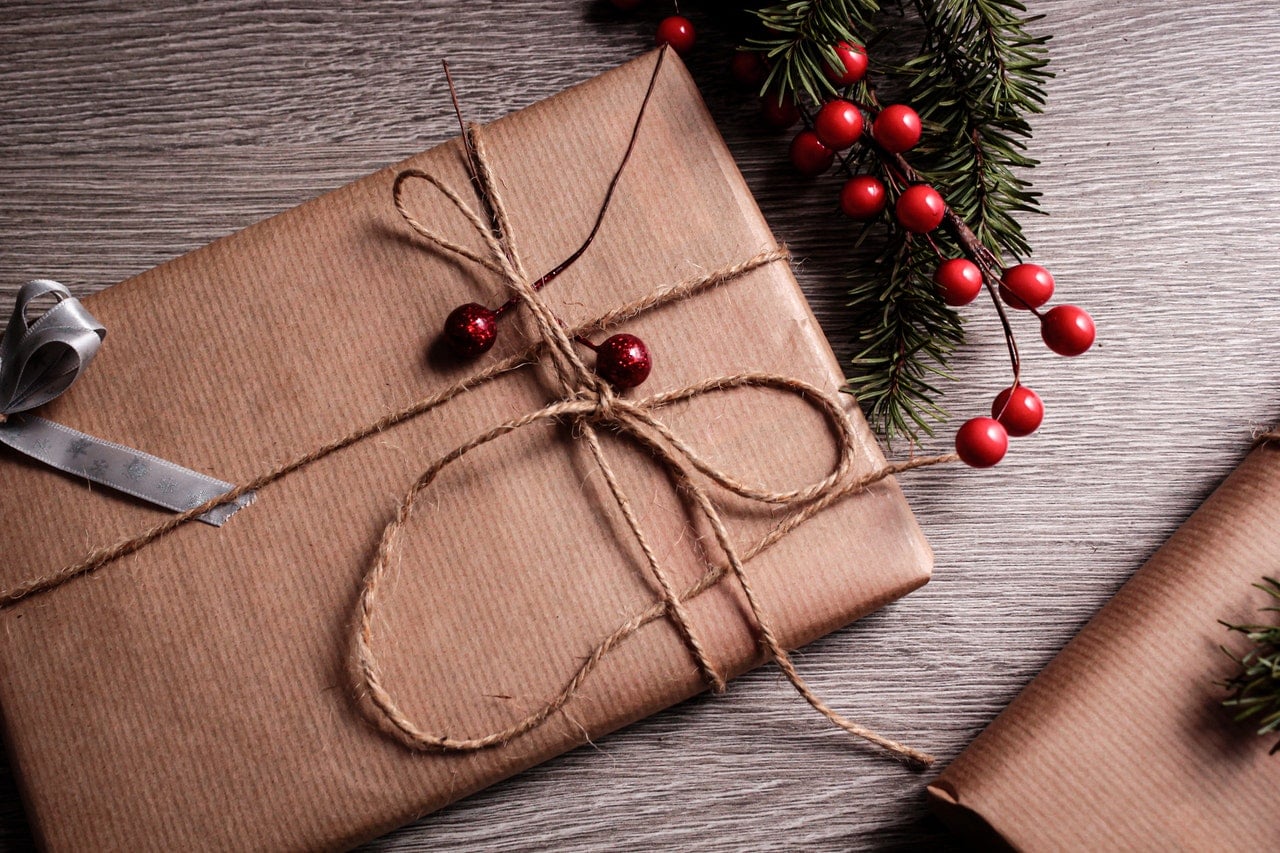 Wrapping paper. The environmentalist's arch nemesis. It's such a blatant waste of paper that it's hard not to cringe when you're watching children savagely tear the paper to shreds!
Obviously, keeping wrapping paper and reusing it is the way to go. To encourage this in your household (or social circles), lead by example. Carefully open your gifts by the edges, fold the paper and neatly tuck it to one side. If you're particularly bold, you can add a casual "I like to reuse the wrapping paper because it's better for the environment!" out there too. It really generates a lot of guilt, and you'll notice others will quickly follow suit.
Other ideas for wrapping paper include using old maps, magazines and newspapers! I recently received a gift wrapped in coffee stained newspaper, and it was beautiful! It smelled delicious, had a super vintage feel to it, and was Eco-friendly! My friends know me so well.
Conclusion
So just remember: making Christmas as green as possible is all about keeping the three Rs – Reduce, Reuse and Recycle – in the top of your mind.