Neem oil pesticide has steadily increased in usage and popularity over the past few years.
Why?
Neem oil is 100% natural and non-toxic to humans and pets, is inexpensive, and offers a long-term solution to pest problems.
Since the oil is completely environmentally-friendly and easily broken down, more and more people are turning to neem oil as a biopesticide for their home and garden.
How Does Neem Oil Work?
Neem oil is extracted from the fruits and seeds of the neem, an evergreen tree endemic to the Indian subcontinent.
It works by interrupting the reproductive cycle of insects. Once ingested, it affects the hormonal system of the insect, causing it to forget to eat and stop moulting, mating and laying eggs.
This eventually sees the complete destruction of the insect population in the designated area as the older insects die off without producing offspring.
Neem oil is also powerfully aromatic and gives off an odor that insects do not like, protecting plants by making them unappealing.
What is Neem Oil Effective Against?
Neem oil is an effective repellent of a wide variety of common garden bugs, including caterpillars, nematodes, locusts, aphids, Japanese beetles and mites.
In the home, neem oil can be used to combat ant, cockroach, fly, termite, mosquito and bedbug infestations.
It has no known adverse affects on mammals, birds, bees, butterflies and ladybugs.
How Do I Make My Own Neem Oil Pesticide?
Neem oil is a cost-effective pesticide.
You can buy neem oil sprays in a garden centre, but if you'd like to make your own, it's a very simple process.
This way, you can control the quality of the ingredients, the concentration levels and the cost – it is often far cheaper in the long run to make your own neem oil spray than buying a pre-made version in a store, like the one pictured below: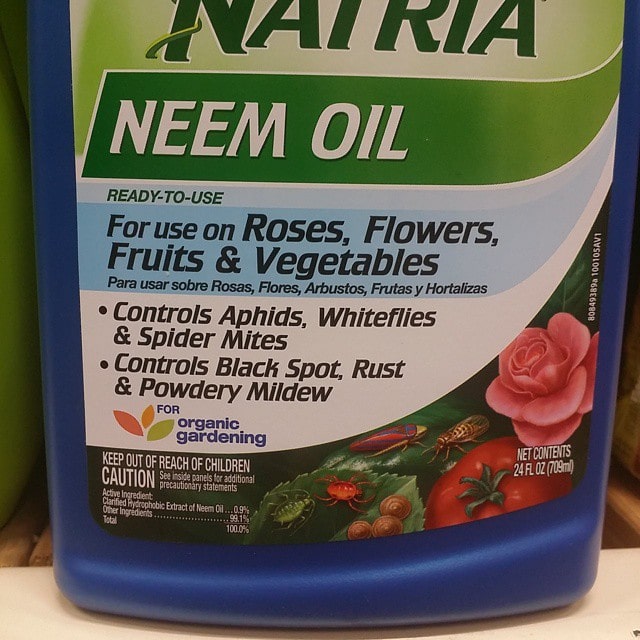 Store versions can also be less potent, with a lower concentration of the active ingredient, Azadirachtin.
To make your own neem oil pesticide spray, follow these steps:
1. Start with a base
Start with a base of good-quality neem oil or neem leaf extract.
Look for 100% pure oils, also called crude or raw neem oil.
It needs to be cold pressed as head destroys the Azadirachtin, and you might like to look for organic neem oil as well as this will ensure no contamination with petrochemicals or solvents has taken place during the purification process.
If you don't have a local store that sells it, you can buy some on Amazon.
2. Emulsify
Since neem oil does not readily mix with water, you'll need to use an emulsifier like a mild liquid soap.
3. Mix
To make one litre of general-purpose neem oil spray, mix 5 mL neem oil, 2 mL of liquid soap and 1 L of water.
Add the soap to the water first and then slowly stir in the neem oil.
4. Pour and Spray
Pour the mixture into a spray bottle and it is ready to use.
You'll need to use the mix within 8 hours as beyond that the ingredients will start to break down.
Important Note: If you're pregnant or trying to get pregnant, consult your doctor before using neem oil as it can interfere with your hormonal system.
Learn more about Neem Benefits
Whether it's being used for a natural pesticide, or a home remedy, the oil of the neem tree can be used in many aspects of our lives.
Neem oil serves multiple purposes that may otherwise be provided by dangerous chemicals.
In the infographic below, the life of neem is illustrated, including the details of the neem tree itself, whose name translates to "perfect, complete and imperishable", as well as some of its best known uses.