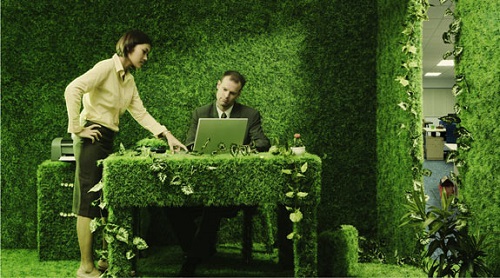 The secret to a smart office interior design lies in its sustainability. The choices in components used for completion of interiors make all the difference. Using materials that may look pretty but may not be durable or may suffer from overnight disintegration will serve no purpose to an office in the long run. Plus the cost effectiveness of having a fully fledged sustainable interior raises up the advantage ante of using reusable materials in the office furniture, flooring and the lighting.
Making some simple yet attainable choices in terms of office decor and essentials can transform a normal workspace into a highly sustainable one.
Use Materials that let the Environment Breathe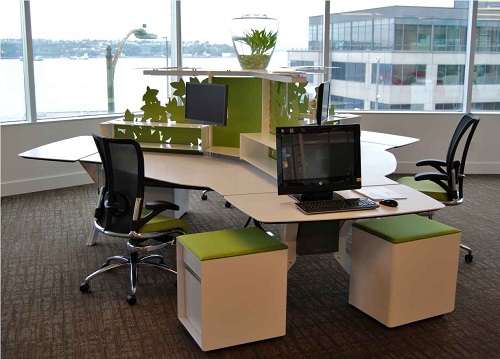 To initiate this noble purpose of achieving a sustainable office interior design, start with replacing all utilities and amenities with those that are made of renewable or recycled materials. Small steps like inclusion of recycled plastic equipments and exclusion of any assets made from wood, obtained from endangered forests, go a long way in sustaining the non-toxic aspect of the surroundings. Hence, you will be able to conserve the environment without diminishing the aesthetic aspect of the decor or any furniture of your office space. You can get nice wooden office furniture that is also great for a natural environment and making the place breath.
Crack Open a Window for Good Measure
Fresh air and sunlight are highly underrated in their contribution towards making a positive influence on the overall health and well-being of all your office occupants. On one hand, people consider sustainable materials a crucial part of environmental sustenance. But on the other hand, most of them are oblivious to the significance of natural and free range air and daylight. Fresh air and daylight can be availed without effort and do not require any external machinery to produce.
For this reason, light and fresh air should be used to the best of their advantage in an office space to take advantage of its benefits.
Make Energy Efficiency a Priority
Emission of high levels of toxic carbon dioxide from certain materials can make us sick without us realising it. Hence, the sign of a truly sustainable office interior design is the possibility of toxicity not rearing its ugly head any time soon. Ensure that the office decor radiates a positive vibe by using environment-friendly recycled material made products, and eliminate any element that exposes people to harmful side-effects. Go for products made from sustainable materials and see the difference.
Space it out to Benefit the Most
Make your organisational skills your ally, and design your office space in an artful manner to accommodate all the essentials, while eliminating clutter.
Use Aesthetically Pleasing yet Eco Friendly Lighting and Furniture
Nobody flourishes under harsh lighting or the unnatural glare it emits (except insects probably!). Hence, usage of eco friendly LED lighting and harmless eco-friendly furniture is a non-negotiable consideration that must come into play when designing an office space.
Adopt the concept of a Sustainable office interior design which is trendy and practical at the same time and here to stay.