Shampoos, conditioners and dry shampoos all contain some awful chemicals that, if you really knew what they could do, you wouldn't put anywhere near your skin. Propane, geraniol, parabens and petrolatum are just some of the ingredients that can be found in your favourite hair care products.
But what I found daunting was the cost of buying organic.
It's hard to grab that bottle of organic shampoo that you know is the right choice, but is twice the price of your run-of-the-mill shampoos.
But don't fear, there are ways to keep the budget low while also keeping your hair (and the rest of you) happy and healthy. Plus, the environment will be grateful that you're not throwing away so many bottles too!
Homemade Natural Shampoo Recipe
The basic recipe for natural DIY shampoo is very simple.
However, a lot of people find this lacking. For one, there's no foaming aspect to it. Secondly, it can leave different hair types in different states of array, some very greasy, dry or tangled.
It's recommended that you start off with the basic recipes and add different ingredients as necessary.
Optional Extras
How to Make Natural Shampoo
There are two ways to arrange your natural shampoo: You can either mix it up every time just before you wash your hair, or you can prepare it a batch at a time.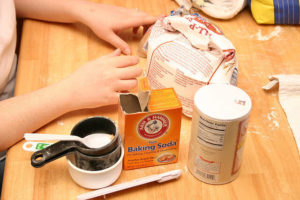 To Prepare Just Before You Wash
Measure 2 tbsp of baking soda
Put the baking soda into the jug (you can add extras at this point)
While in the shower, fill the jug with water.
Stir it until the baking soda is mixed.
Pour over head and scrub thoroughly into scalp and all the way to the tips of your hair.
To Prepare As A Batch
Combine all ingredients. (Use an old shampoo bottle, jar, pump dispenser)
Shake well to mix it and shake it before each use.
Use about a teaspoon every time you shampoo.
Top tip: If you use a pump dispenser for the extra foamy effect, just add ¼ cup of distilled water.
Homemade Natural Hair Conditioner Recipe
Yup.
That's it.
How To Use DIY Hair Conditioner
Juts apply it to your hair and enjoy the soft goodness that it will bring to you!
And like I've said before, feel free to use coconut oil or almond oil if your hair can dry out quite easily.
Homemade Natural Dry Shampoo Recipe
When I made the switch to the "no poo" method of washing my hair (no shampoo, that is) I always kept a bottle of dry shampoo handy.
I was really worried that my hair would look greasy for work or special occasions.
But I realized that it didn't make much sense to go all-natural and DIY for everything, and still use dry shampoo.
Luckily, it's not that hard to make your own.
Dry Shampoo Recipe
Optional Extras
How To Use DIY Dry Shampoo
Combine the ingredients in a jar of some sort (anything with a lid)
Sprinkle it onto your scalp and the roots of your hair. Top tip: You can also use a make-up brush, or an empty salt/pepper shaker to be more specific.
Use a comb to expose different parts of your scalp and roots.
Work it in with your fingertips.
You can leave it in longer (if you have time)
Comb your hair through until the mixture is completely invisible.
If you have any other tips, advice or ingredients for DIY natural hair care products, please let us know in the comments section!