Living an eco-friendly life is a challenge in today's world, but worth the effort. We have to care for our planet, ensuring it is still livable for generations to come. The problem is that modern society, while learning, isn't always equipped for a sustainable life. Especially things credit cards, which can be attached to companies that are far from environmentally conscious.
Are there actually credit cards out there that promote this lifestyle? The answer is yes, to an extent. While the banks it is issued from might be questionable on many levels, you can find credit card that are better for the green living user than others.
GE Money Earth Rewards MasterCard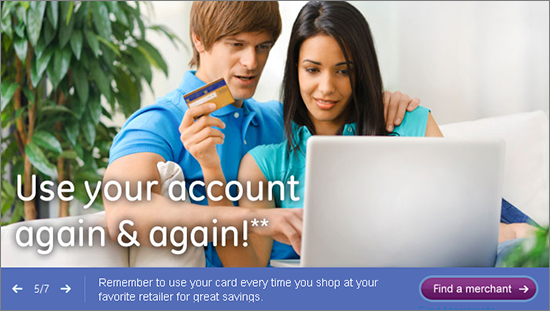 First launched back in 2007, the Earth Rewards card was the first from GE Capital that made environmental concerns a major factor in the rewards program. Giving users control over their reward and how it was spent, 1% of all purchases were dedicated to offsetting their carbon dioxide emissions through various programs. The percentages were gathered over the entire year into one bulk amount, and then applied to that cause on Earth Day. The popularity of this card was the inspiration for a later card issued in Australia, called the GE Money Eco card.
BofA Nature Conservancy Visa

Want to apply your rewards to the Natural Conservancy and their efforts to save the planet? This card will donate $100 for signing up after qualifying purchases. It also have other rewards, like a year's paid membership to the Natural Conservancy, and 1% cash back on purchases, 2% cash back on groceries and 3% cash back on gas for the first $1,500 each quarter. Together with their green credit cards, members who also get a Bank of America checking or savings account will get an additional 10% loyalty bonus. There are no annual fees.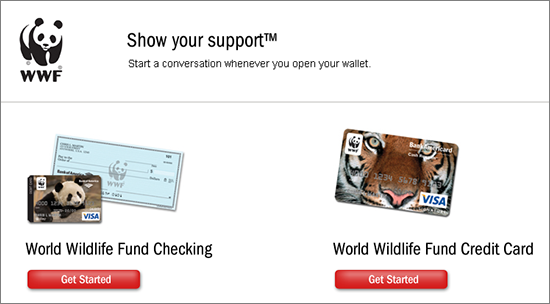 Also from Bank of America is a World Wildlife Fund credit card that supports the protection of all species, both endangered and not. The card has the same percentage cash back program as The Natural Conservancy card, as well as the $100 cash back bonus and donation to WWF. They also provide a WWF checking account that leads to the additional 10% bonus. Every new WWF checking account is a $10 contribution, with $3 per annual renewal. Every $100 in qualifying purchases is a $0.25 contribution to the fund. A small amount, but it adds up.
Redirect Guide Visa

Fight global warming with this credit card issued through Redirect Guide. Not only does it contribute money to this cause with each purchase, but it offers you discounts to green friendly and responsible businesses around the world. Dedicated to sustainable travel, if you head out of town a lot, this is a great card for offsetting that carbon footprint. Other programs funded through this card are various solar and alternative energy and energy saving organizations around the world.
Do you know of any green credit cards that we should know about? Let us know in the comments!