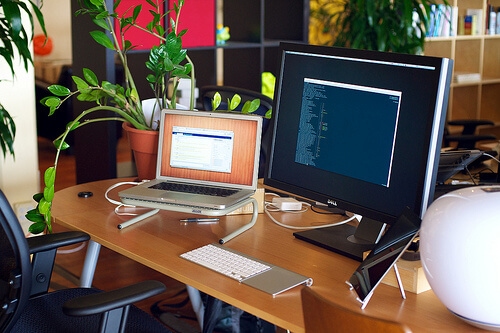 Pop up offices are fast becoming a new trend. There has been a notable shift in the way we work; all we now need is a surface, and something we can plug our laptop into. Pop ups have developed in response to the increased flexibility we now have regarding office locations.
But how can we make our pop-up offices more eco-friendly? Read on to discover how you can combine flexibility with going green.
Stop power drain in its tracks
One of the greatest wasters of energy is standby power. Many electrical devices are designed to draw power 24 hours a day. Even when these devices are 'off' they still use energy to operate features such as clocks.
Simple power saving devices can combat standby power drain. These have the ability to detect when TV sets or computers are off, and shut down anything linked to them.
Another thing to look for is an Energy Star rated computer, as this will use between 30 to 60 per cent less energy than a model with no energy saving features.
Use LED lighting
LED light bulbs are a good way to do your bit for the environment. They use energy much more efficiently than more traditional incandescent light bulbs, which waste 90 per cent of the energy they absorb on heat. Another environmental benefit is that LEDs last up to 15 times longer than traditional light bulbs.
Not only does this help the environment, it helps you to keep your bills down, too – and your new lighting should be able to travel better, enabling you to set up and move about with ease.
Have lots of plants
Research has shown that plants have numerous benefits for our indoor environment. Plants make the air we breathe cleaner by removing pollutants. They can help reduce incidences of asthma, dust allergies and migraines within an office, and several are recommended by NASA specifically for office use.
Oh, and they make your office look nicer, which is never bad.
Use Recycled Materials
Some innovative companies are using recycled materials to make pop-up offices more eco-friendly. Dubbeldam Architecture and Design have designed a pop-up office that is made out of recycled shipping pallets. The office space is made from modular units, which can be combined in different ways to make a variety of spaces.
If you want to go one step further with recycling you can even buy recycled office stationary online.
Rent furniture
Renting furniture is an eco-friendly option for pop-up businesses. If decide to upgrade you can send it back to the supplier rather than throw it away. There are lots of companies that offer office furniture for lease. It's a good option if you want flexibility, as leases can range from a couple of months to several years.
There are lots of ways to make pop up offices more eco-friendly. These can be small changes such as using recycled stationary, or you can go for green completely and have the whole space built out of recycled materials.
Whatever changes you make you'll have the satisfaction of knowing that you're doing your bit for the environment.