For a large number of people, nicer weather means that their home is suddenly a lot bigger. Why? They spend a lot more time outdoors and their garden is an extension of their living space. For many, the nice weather encompasses a lot of things:
Time outdoors enjoying the sun
Cooking and dining outside
Bonfires
Tea time in the garden with friends or curled up with a great book
Planting flowers, herbs, and vegetables
Watching the sunrise or watching the sunset
Outdoor Design Ideas
Whatever you enjoy doing outside, there are more outdoor design ideas than ever.  Instead of a patio with a plastic table and chairs (and perhaps a fabric umbrella), many of us now have outdoor living rooms. These rooms have weatherproof outdoor wicker patio furniture as nice (or nicer) than indoor furniture.
Wicker patio furniture can quickly transform a patio into an elegant extension of a house and give homeowners an easy way to enjoy the backyard when the weather is nice.
While nearly all people find a way to utilize every square inch of their home or apartment, the outdoor areas are often neglected. It is not uncommon to find a beautiful home surrounded by lush landscaping that is never used simply because there is nowhere for anyone to sit down and enjoy it.
You'll find plush sectionals that look good enough to be indoors and you'll find a wealth of options for outdoor lighting (beyond something that looks like a clothesline with tacky plastic bulbs on it) and you'll even find outdoor flooring or carpeting ideas that can bring your outdoor living room together cohesively.
People outfit these outdoor living areas with bars, fireplaces, and even with outdoor kitchens. There is a limitless opportunity to have a space that's both enjoyable and nice to look at.
When you've got a small amount of space for your garden, it can be difficult to decide what to do with the space so that it can serve multiple purposes for the whole family. Whether your garden area is large or small, there are some great ways that you can define the space as a place to entertain or enjoy time with the sun on your face, too.
Ideas for Small Gardens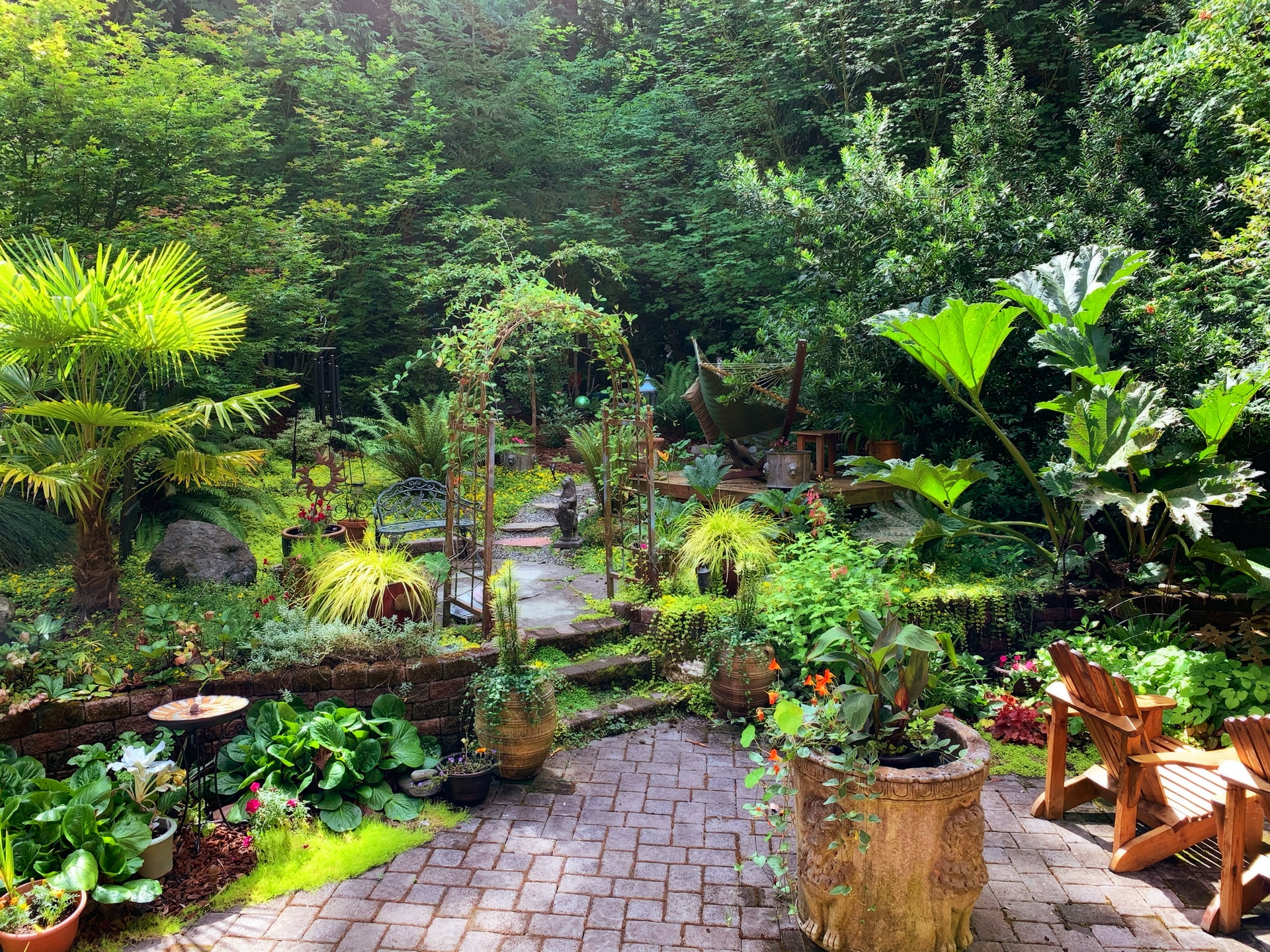 Here are a few ideas for small spaces (which, incidentally, are less work for you in terms of cutting grass, weeding, and watering!)
Create garden paths to segment the space and to help small spaces feel bigger
Do small border gardens around fencing and buildings to get a splash of color that doesn't have to take up a lot of space.
Consider building a vertical garden wall where you can place plants in shadow boxes or sconces.
Seating can double as storage if you purchase bench seats.
If you're having trouble deciding what to do with your space, consider browsing gardening magazines or talking to a garden design consultant who can give you some ideas.
Get creative with color and with patterns as this approach can help your space feel bigger and more relaxing as well. You'll find a variety of colors of furniture but also as outbuildings, decking, and patio stones, too.
Worried about maintaining your garden once you've designed it?
There are some low-maintenance ideas to take advantage of.
Summer Garden Maintenance
As the summer heat sets in, take steps to protect your garden and backyard. Here are some expert tips to help you maintain your outdoor space during the hot summer months:
Water early in the day. The best time to water your plants is early in the morning before the sun gets too high in the sky. This will give the plants a chance to absorb the water before it evaporates in the heat.
Use mulch. A layer of mulch helps to keep the soil moist and cool. It also helps to prevent weeds from growing.
Choose drought-tolerant plants. If you live in an area with limited water, or if you simply want to save on your water bill, choose plants that can tolerate dry conditions. There are many beautiful and durable plants that thrive in hot, dry climates.
Be careful with fertilizers. Over-fertilizing can cause problems for both people and plants. Use organic fertilizer sparingly, or better yet, choose a slow-release fertilizer that will last throughout the season.
You can also hire the services of a landscaping company that can take care of the upkeep, including cutting grass and taking care of weeding, trimming, and watering.