Having an eco-friendly vacation means more than finding a vacation spot that is recognized as being green. An the end of our list of our favorite green places to have a great vacation are some tips on how to get involved and make sure your own activities are part of the eco friendly experience.
Losari Coffee Plantation – Central Java, Indonesia
Losari is an original eco-friendly place. Still an operating coffee plantation, with almost one hundred years of operation, everything about Losari is environmentally friendly. Every bungalow is made from natural materials with plantation teak wood used more than 80 years ago to make each structure, in authentic Javanese design.
There are many opportunities to get to know the local people, including chances to help in local rehabilitation environment projects. There are classes and opportunities to learn about natural and traditional medicines still used today throughout the island of Java. Situated in a valley surrounded by four active volcanoes, Losari is as natural and eco-friendly as a vacation destination can be found.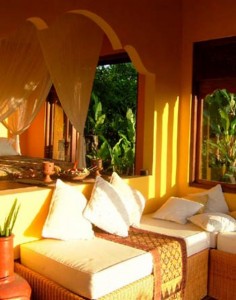 Sarinbuana Eco Lodge – Central Bali – Indonesia
Another Indonesian spot that regularly wins acclaim is located on Batkaru Mountain in the center of mystical Bali. The location of Sarinbuana Eco Lodge gets visitors close as possible to nature. Each private bungalow looks out on a protected rainforest, with breath taking views and sounds, especially at night. No more than ten guests may stay at Sarinbuana at any one time, making privacy and time for eco-studies top priority for all involved. Hikes into the protected forests and classes in traditional Balinese cooking are just part of the activities to be enjoyed. All appliances are eco-friendly and much of the lodge facilities are light by solar lighting. The staff and guests have weekly meetings to discuss ways and ideas to make this environmentally aware resort even more eco-friendly.
Seychelles Frigate Island
Frigate Island is one of the 115 islands that make up the country of Seychelles. This is a luxury yet environment-friendly retreat. It is only 4 degrees south of the equator and north of Madagascar about 950 kilometers. There are only 16 villas on the 700 acre island. There are many eco-friendly projects under way at all times. Some of these are research oriented and spread to other Seychelles islands once they are tested and perfected. Guests enjoy participation in these projects a great deal.
Preparing for your Eco-friendly Vacation
Going on an eco-friendly vacation is not difficult to arrange. Here are some tips to help you get prepared and ensure your vacation truly is eco-friendly.
Keep things simple and reduce stress on everyone
Travel as light as possible
Use eco-friendly transportation, such as direct flights whenever possible.
Choose greener places that minimize their impact on the environment
When on site, only participate in environmentally-friendly activities
Support the local economy, get to know the local people
Seek out projects that improve the life of local people in an eco-friendly way
Follow all the eco-friendly rule requests at the place you plan to stay.
You can make sure the location you are headed for is truly an eco-friendly vacation location.