Your yard is an extension of your indoor living space. Regardless of the size, you can turn your garden into a beautiful retreat where you can enjoy the outdoors, entertain guests, or spend quality time with family.
There are lots of ways that you can make the most out of your backyard and turn it into a functional area. Evaluate your outdoor space and maximize its potential by using the following helpful tips:
Plant flowers and greenery
Be creative when choosing plants and shrubs for your garden. Choose plants based on the amount of sunlight that your yard receives and the amount of maintenance that you are willing to do over the course of the year.
Your local garden centre will be able to recommend plants that will fill your space and complete your vision. Flowering bushes will attract butterflies and create a beautiful backdrop for your garden.
Ornamental grasses have also become a very popular option for gardeners because they grow quickly and don't require much attention. Look for fast growing bushes if you need more privacy, and make sure to put smaller plants in the front of your garden so they don't disappear from sight.
Add some dimension by using decorative planters and flower boxes as a border around your patio and walkways.
Be creative with other elements
Adding other elements to your garden such as patio stones, gravel, and a water feature will make your outdoor space look inviting and interesting. Use concrete garden blocks to create beautiful borders around your flower beds.
Build a walkway across the grass using patio stones or pea gravel. Create a focal point by building a small fish pond, and incorporate a fountain to fill your garden with the sound of running water.
Hang a hammock between two trees for those lazy summer afternoons. Mount a bird feeder on a fence post if you would like to attract more birds to your yard. Lighting is an important element of your garden, especially if you like to spend time outdoors during the evening.
Solar lights are an easy and low-cost lighting option for your garden. Add some extra warmth with tiki torches or an outdoor fireplace.
Install a pergola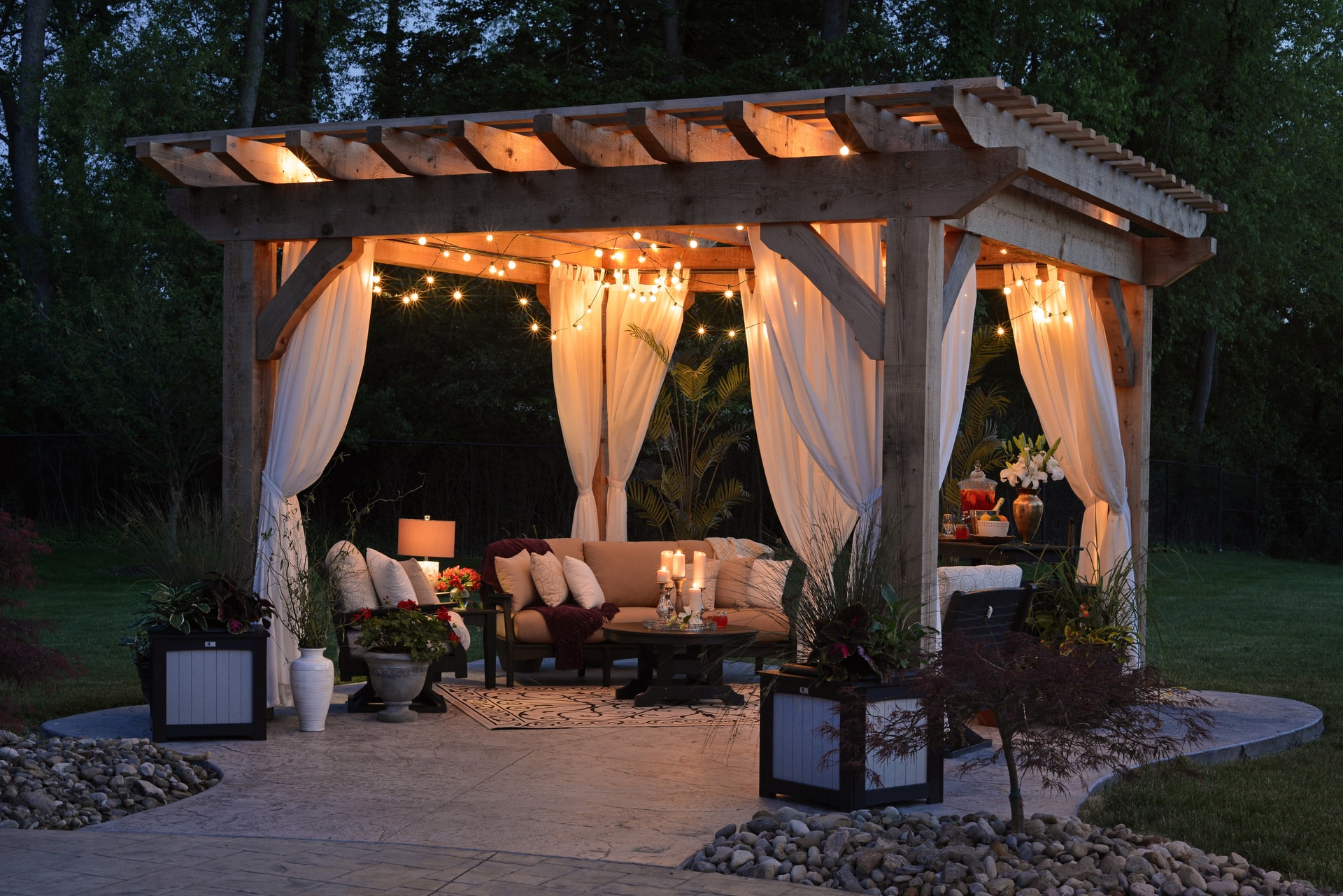 Create an outdoor living space by installing a steel pergola in your yard. Steel pergolas are the perfect solution to create a beautiful and intimate seating area. Steel pergolas are stronger and more durable than the traditional wooden structures.
Your pergola can be covered in a shade cloth to block out the sun during the day time, and protect your outdoor furniture from the elements. Having a designated entertaining area will allow you to make the most of your outdoor space when you have guests over for dinner and drinks.
String some simple white lights through the top of the pergola to create a warm glow in the evening.
Incorporate outdoor furniture
The best way to enjoy your garden is to relax in it. Invest in some durable furniture that will withstand several years of enjoyment. Choose a neutral set of tables and chairs, and liven it up by adding brightly colored cushions and place settings.
Most upholstered outdoor products are fade-proof and mildew resistant. Bright prints, stripes and bold floral patterns have become popular fabric choices for outdoor furniture accessories. Are you working with limited space?
Opt for a smaller bistro set to create the perfect spot to enjoy your morning coffee or set up an intimate dinner for two. If you are expecting company, you can create a quick and easy centrepiece by placing some cut flowers in a jar.
Make sure to have a few decorative lanterns available to brighten up your garden at night.
Have fun and be creative when transforming your garden into an oasis. Be patient with your project and take the time to allow plants to fill in as your garden grows.
Make sure to maintain your plants, trim back any excessive growth, and keep weeds under control. Your garden will become your favourite place to spend time with the people you care about and enjoy the beautiful outdoors.