Sushi is often more daunting to home cooks than it needs to be.
This is a simple recipe for a delicious meal that is easy to assemble, and can be eaten with hands rather than chopsticks.
Using an easy rolling technique that results in a wrap-like, triangle roll, this sushi can impress friends while teaching the rudiments of making sushi.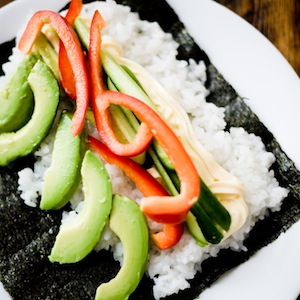 Yield:

10 servings
Vegetarian Pan-Fried Tofu Sushi
Total Time:
1 hour
20 minutes
This is a simple recipe for a delicious meal that is easy to assemble, and can be eaten with hands rather than chopsticks.
Ingredients
2 avocados, sliced
1/2 cup sliced ginger
1 block tofu
1/2 tsp salt
Vegetable oil, for frying
Japanese mayonnaise
10 nori sheets
1 tbl sugar
Sushi Rice
1 cup sushi rice
1 cup water
1/8 cup sushi vinegar
1 tsp salt
1 tblsp sugar
Instructions
Rinse the sushi rice under cold running water until the draining water runs clear – this will remove all the starch from the granules. Combine the sushi rice and the water in a medium saucepan and set it on the stove. Turn the heat to high and bring the rice to a boil, then reduce the heat to medium-low and allow to simmer, covered, for 15 to 17 minutes or according to package directions. Remove from heat and allow to cool for 10 minutes, covered.
Whisk together the vinegar, salt and sugar in a small saucepan on the stove. Turn to medium heat and bring to a simmer then remove from heat. Place the rice in a large glass bowl and drizzle the vinegar mixture over top. Toss the rice using a large wooden spoon and allow to cool for 10 to 15 minutes, tossing occasionally, until room temperature.
Meanwhile, cut the tofu into ½-inch blocks. Sprinkle with the cut tofu evenly with the salt, tossing to evenly coat. Coat a deep bottomed frying pan with oil and bring to medium-high heat. Sprinkle a few drops of water onto the hot pan – it is ready when they bubble and sizzle. Cook the slices of tofu for 3 to 4 minutes on each side, or until dark golden brown. Remove and drain on paper towel.
Spoon enough rice onto a nori sheet to cover it completely in a layer 1/8-inches thick. Place the desired amount of avocado, ginger, tofu and mayonnaise on a diagonal across the prepared nori sheet, making sure to make it only about 1-inch wide (and leaving enough to divide between the remaining 9 rolls). Fold up one of the bottom points at the end of the sushi filling, and roll up the rest of the roll, creating a triangle.
Notes
For a vegan version of this dish, omit the mayonnaise.
Nutrition Information
Yield
10
Serving Size
1
Amount Per Serving
Calories

160
Total Fat

11g
Saturated Fat

2g
Trans Fat

0g
Unsaturated Fat

9g
Cholesterol

1mg
Sodium

401mg
Carbohydrates

11g
Fiber

3g
Sugar

2g
Protein

6g