Organic, free-range chickens not only taste better, often having more tender meat, but also are raised in humane conditions.
Purchase local meat for the freshest product and to lessen the carbon impact that purchasing farm-factory chickens often makes.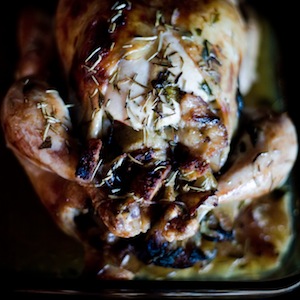 Yield:

4 servings
Organic Free-Range Rosemary Roasted Chicken with Spelt Bread Stuffing
Cook Time:
1 hour
30 minutes
This chicken works well simply roasted, either stuffed with an bread mixture or a halved lemon inserted into the cavity.
Ingredients
1 5 lb organic free range chicken
1 large onion, chopped
1 head garlic, thinly sliced
5 leaves sprigs fresh rosemary, removed and twigs discarded
2 tbsp extra-virgin olive oil
1 tbsp lemon zest
Sea salt, to taste
1 tsp coarse ground black pepper
Stuffing
10 pieces spelt bread, chopped into 1-inch
1 tbsp fresh rosemary, chopped
1 cup black currents
1 small onion, chopped
3 garlic cloves, chopped
2 tbsp olive oil
1 cup organic chicken broth
1 pinch ground black pepper
Salt, to taste
Instructions
Preheat the oven to 350 degrees Fahrenheit. Set the rack to the medium setting.
Remove any gizzards from the chicken and rinse out the cavity under running cold water. Place the chicken in a roasting pan, breast-side up. Make slits in the skin above the breasts and legs and insert the onion and garlic and 1 pinch of rosemary in each.
Toss together the ingredients for the stuffing, ensuring the oil and seasonings are evenly distributed.
Drizzle the olive oil on top evenly. Sprinkle the rosemary, lemon zest, black pepper and salt, to taste, on top. Insert the prepared stuffing into the cavity.
Cover the chicken with tinfoil or a lid that fits the roasting pan and insert into the oven. Cook for 1 hour for every 5 pounds. Remove the tinfoil and continue to roast until the chicken is golden brown, about 30 minutes. Remove when a meat thermometer inserted into the thickest part of the breast reads 165 degrees Fahrenheit.
Remove from the oven, tent with foil, and allow to rest for 10 minutes before cutting.