Fall is by far one of our favorite seasons. Although the weather is getting cooler and layers of clothing are being piled on – fall is one of the most gorgeous seasons with the best food!
It's an incredible time to support our bodies with delicious and hardy root veggies and crisp, sweet apples.
Here are a few reasons to fall in love with fall….including a delicious apple crumble recipe!
1. Eat your rustic roots
Firstly, Eat them sweet potatoes, butternut squash, carrots, parsnips, acorn squash…
These rustic roots are usually orange and yellow – these colours represent creativity, physical and emotional energy, expression, and optimism!
Foods that are rich in these colours support the digestive system and stimulate our appetite.
They're high in vitamin A & C; these vitamins stimulate our immune system, promote healthy skin & reduce inflammation.
2. Go for the green
Eat them kale and collards
These cruciferous veggies contain indole-3-carbinol, which helps the liver detox excess estrogen (this doesn't just apply to you ladies!), reducing cancer risk especially breast, ovarian, and prostate cancers.
Get your vitamin C and A from these leafy greens.
Don't forget about vitamin K, important for healthy blood clotting and bone health.
3. Get your apple on
Apples, the main ingredient in the apple crumble recipe, contain a fiber called pectin, which regulates 'waste' removal, gets rid of toxins and cleans out the colon! Pectin is very soothing for the digestive tract.
Get your intake of vitamin C to boost immunity and prevent inflammation.
Apples have anti-inflammatory substances that reduce the risk of cancer. One study in women showed a lower risk of death from cancer by eating apples.
4. Get saucy with cranberries
Don't sweat the UTI (urinary tract infection), cranberries help prevent and relieve UTIs by preventing bacteria from attaching to the wall of the bladder
Want pretty teeth? Cranberries prevent bacteria from attaching to the walls of tissues keeping our oral hygiene in check and even preventing stomach ulcers – ouch!
And yet again, another fabulous source of vitamin C and fibre, woohoo!
5. People of the world, spice up your life with cinnamon
Feeling that 3pm crash? Craving carbs? Cinnamon balances our blood sugar so that we stay nice and energized throughout the day without feeling those lows!
Cinnamon also prevents unwanted blood clots, is anti-inflammatory and anti-microbial – goodbye inflammation and colds!
6. Boost your boogie with ginger and garlic
Let's prevent illness this fall and winter season with ginger and garlic.
Ginger relieves digestive upset and nausea, combats microbes, supports the delivery of nutrients and removal of waste and keeps us warm through the cold winter nights.
Raw garlic contains allicin (a sulfur containing component) which has anti-cancerous properties and lowers blood pressure.
Garlic, raw or cooked, is anti-microbial and gives the immune system an extra kick, hya!
7. Guess who's coming to dinner
It's so important to share your meals with loved ones and feel a sense of community.
When we're eating with those we love, we are in a relax and digest mode, which allows us to properly metabolize our food and take in all of the wonderful nutrients the meal has to offer.
Drop the stress and come on, get happy.
Delicious Apple Crumble Recipe
Here's the apple crumble recipe, enjoy!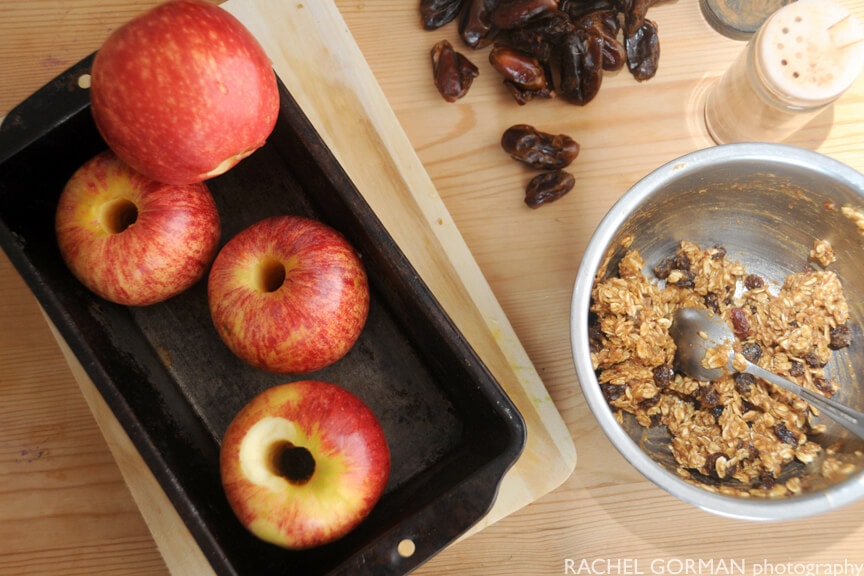 Yield:

Serves 8
Raw Apple Crumble
Autumn is an incredible time to support our bodies with delicious and hardy root veggies and crisp, sweet apples – like those found in this fantastic apple crumble!
Ingredients
Crumble
2 cups your favorite nut mixture, we used pecans and almonds
1 cup cooking dates
1 cup quinoa flakes, or oats if you can tolerate them
1/4 cup coconut oil, melted
4 tsp cinnamon
1 pinch seal salt
Filling
8 apples, Cortland and Empire are great choices!
1 cup cooking dates, (or medjool – yum!)
1/2 lemon, squeezed
1 tsp cinnamon
Instructions
Filling
Cut the remaining 6 apples into small slices and mix with the puree – get those apples saucy.
Crumble
Find your favorite 8×8" pan and layer ½ of the crumble on the bottom.
Place the apple mixture on top of the crumble layer.
Put the remaining crumble mixture on top.
Enjoy!
Notes
Recipe originally published Nov 14, 2011
Nutrition Information
Yield
8
Serving Size
1
Amount Per Serving
Calories

516
Total Fat

26g
Saturated Fat

9g
Trans Fat

0g
Unsaturated Fat

16g
Cholesterol

0mg
Sodium

113mg
Carbohydrates

70g
Fiber

12g
Sugar

44g
Protein

10g