Do you ever find yourself with a fridge full of leftovers or unused produce and have no idea what to do with them? According to the USDA, almost one-third of the food that is available in the United States is lost or wasted. Food waste can have a detrimental effect on the environment since it causes landfills to emit more methane as the food rots.
Not to mention when you waste food, you are also wasting money, labor, energy, water and even land. Thankfully, there are some easy ways to help you reduce food waste so you can get creative with your leftovers, plan meals ahead of time, and more.
1. Get Creative With Your Leftovers
When you're unsure what to do with your half-used avocado, frozen veggies or cooked chicken breast, you can turn your scraps into a whole new meal. You can get creative in the kitchen or use the help of this leftover recipe generator.
With this recipe generator, you can type in up to three ingredients. Based on the ingredients you choose, the library of 1,000+ recipes will calculate what you can make.
2. Plan Meals Ahead of Time
Planning ahead of time is another effective way to reduce food waste. By taking the time to plan meals, grocery shop, and prepare food in advance, you can ensure that you are only buying and cooking what you need. This helps to reduce the amount of food that is wasted due to spoilage or over-purchasing.
Additionally, planning ahead of time can help you to make the most of leftovers, as you can plan to use them in future meals with the recipe generator above or by freezing them. You can use this free printable leftover food tracker which will help you know what food you have on hand and when it needs to be used or eaten. Not only will this help you reduce food waste, but it can help you save time and money in the long run.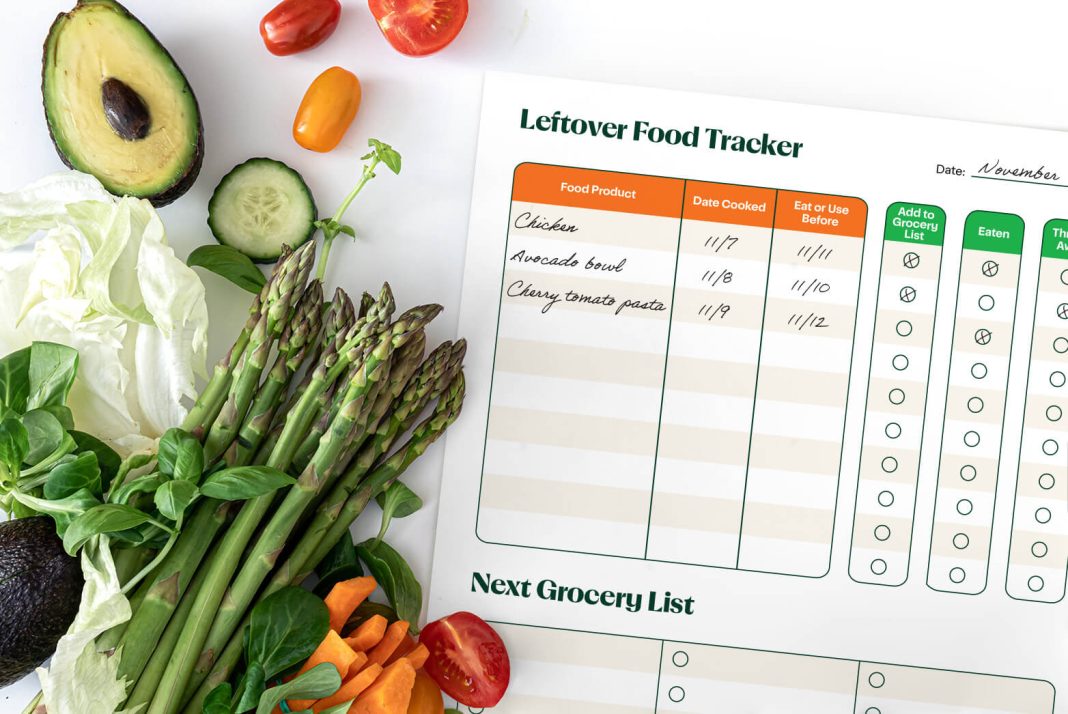 3. Store Food Properly
Storing food properly is an important part of reducing food waste, so you'll want to invest in proper food storage containers. Proper storage helps to keep food fresh for longer, reducing the amount of food that needs to be thrown away due to spoilage.
Additionally, proper storage can help to reduce the amount of food that is wasted due to improper portioning or over-preparation. By storing food properly, you can help to ensure that you are getting the most out of your food and reducing the amount of food that is wasted.
4. Compost Food Scraps
Composting leftover food scraps is another effective way to reduce food waste. By composting, food scraps are broken down into nutrient-rich soil, which can be used to fertilize gardens and other plants. This helps to reduce the amount of food waste that ends up in landfills, where it can take years to decompose and emit methane emissions.
Additionally, composting can help to reduce the amount of water and energy used to produce food, as well as reduce the amount of pesticides and fertilizers used in agriculture. Overall, composting leftover food scraps is an effective way to reduce food waste and help the environment.
5. Donate Excess Food to Food Banks or Shelters
Donating excess food is a simple and effective way to reduce food waste while simultaneously helping those in need. While you won't be able to donate your leftover casserole from the night before, you can rummage through your pantry to find products with a longer shelf life such as canned food, peanut butter, pasta, or rice.
If you've found your pantry is full of unused food that you don't plan on cooking in the near future, consider donating them so they don't sit there until they expire. Make sure you check your local food bank or shelter to see what food they accept or are in most need of before donating.
Conclusion
Reducing food waste is an important step in creating a more sustainable future. By following the five tips outlined above, you can help make a difference in the amount of food waste produced.
From meal planning to composting, there are many simple and effective ways to reduce food waste. Taking the time to implement these strategies can help create a more sustainable future for everyone.