Authors
Posts by Dixie Somers
Going green this summer is a great way of exercising creativity and preserving the environment. Remember, living green provides parents with the opportunity of handing...
How can your windows make your home more energy efficient? That conundrum bothered the brains of physicists until sometime in the 19th century. Building...
Few people question the value of renewable energy sources, as our world continues on a rampage of consumption and environmental damage. The problem with...
The alternative energy industry continues to surge in the global marketplace, and technological advancements promise rewards for both consumers and investors. These innovations are normally...
Rather than transferring the biodegradable kitchen and household waste to the landfill, building a compost pile is a practical solution to the waste problem....
People and municipalities across the world are recognizing the importance of recycling in the effort of curtailing the negative effects of pollution. However, recycling...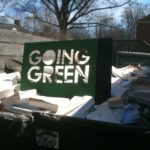 Every household can make a difference in the rapid pace of global warming by making a few, simple changes. For the most part, these...
Confess. You are not really the "green car" type. You want a classy car that turns people's heads and is good for the work...
Some people love to garden. Others wish a garden would just spring up and give them a beautiful place to unwind. Either way, a...
Clutter; The word itself is enough to make you feel claustrophobic. Getting some breathing space by reducing clutter can not only help your well-being...